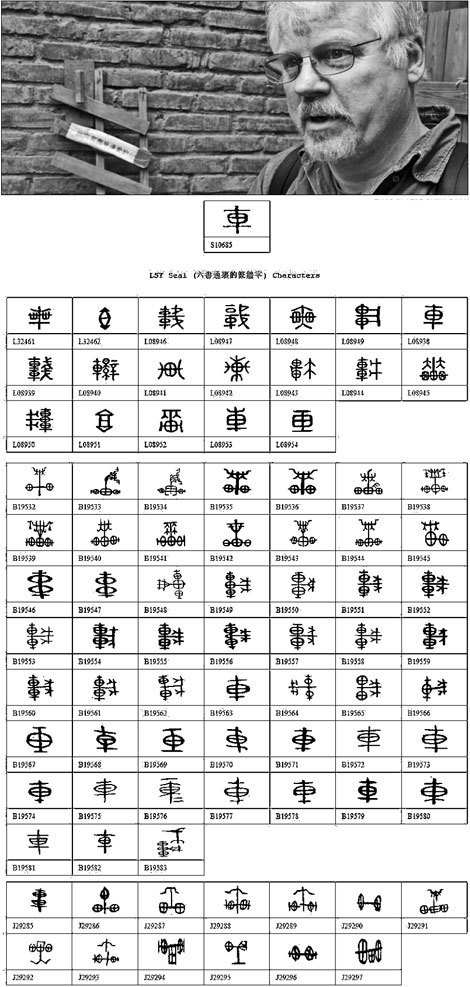 The different forms of the Chinese character "车" (vehicle) that has changed over time is showcased on the website of Richard Sears, who has worked on his Chinese character database for 20 years. Zhao Qi / For China Daily
A nearly fatal heart attack pushes an American to pursue his dream of founding the world's first website devoted to the etymology of written Chinese. Tang Yue reports.
It was after a 1994 heart attack nearly took his life that American Richard Sears realized he needed to push forward with his dream of creating a website devoted to the etymology of Chinese characters (hanzi). After receiving three stents and four bypasses, and losing his house and his wife, his vision of digitizing and posting online the origins of hanzi has come true.
"(Nearly dying) made me realize that if I had one day to live, I would call my friends and say goodbye," the 61-year-old says.
"If I absolutely knew I had another 50 years to live, I would put off the important things for another 10 years. If I knew I had one year to live, what I would do?"
The answer, he says, became obvious to him.
"I decided to computerize ancient Chinese characters," he says.
"But I didn't die. I continued to live for many more years."
Soon after he recovered, he hired a friend to scan the textbooks he had bought in China and digitize the individual characters.
Sears worked on the database of thousands of hanzi, elaborating on the more than 100 forms of each. He launched his free website in 2002.
The costs of books and traveling - plus the wages, if he had paid himself - would amount to $300,000, he says.
In 2002, he ran out of cash.
He had to let his assistant go and sell his house to move into a single-room apartment in Knoxville, Tennessee. His wife divorced him, he says.
"Some of my friends think I'm crazy," he says.
"Some think I wasted all my money. Some think I wasted all my time. Maybe some people think I'm a little bit strange. But I don't think I wasted my time because now I have a website."
This, he says, has kept him from feeling lonely.
"Until recently, it has been hard to find any Chinese who are seriously interested in Chinese etymology," he says.
"So I had very few friends to talk to. But I have my books. They are my friends," he continues.
"I also have no children. But the characters are my babies. There are hundreds of thousands of them."
Most of the 13,000 users of his site were non-Chinese, and a handful would donate $50 a year, until a Chinese person posted his story on Sina.com's micro-blogging site Weibo earlier this year. The number of users surged to 60,000, most of whom are now Chinese.
His work earned him the You Bring Charm to China award last month. The honor was bestowed by Tianjin TV, Phoenix TV and the United Nations Development Programme, China.
He never dreamed of such acclaim, he says, when he was sitting around one day 39 years ago, thinking about how only 7 percent of the world speaks English as a mother tongue.
The then 22-year-old decided to learn a foreign language and was lured to Chinese by its exoticism.
So he bought a one-way ticket to Taipei. It would be two and a half years until he could scrape up enough cash to return to the United States, he says.
His spoken Chinese rapidly improved, he says, largely thanks to the help of his Chinese ex wife.
But his reading and writing remained far behind until 1990, when he discovered a passion for the evolution of hanzi.
"As an adult, learning Chinese is very difficult," he says.
"You have to memorize about 5,000 characters and 60,000 combinations. So, first, I learned to speak Chinese. It was all right. Then, I learned to read and write, and it was very difficult."
He says the evolution of his comprehension of modern Chinese's written form developed in pace with his understanding of its evolution from its ancient forms.
"I found that if I can look at the original characters and get the stories of how they were formed, then I can see the changes over time," he says.
"I found it very helpful for learning Chinese."
His greatest joy, he says, comes from the more than 1,000 fan e-mails he receives from around the world every day.
"Many people use my online material to write PhD theses," he says.
"I know of 20. Maybe there are more."
Sears hopes to enhance the site with more pictures and video, he says.
The public has nicknamed Sears, "Chinese Characters Uncle".
"Some even call me 'Hanzi Yeye (Chinese Characters Grandpa)', but I prefer to be called uncle," he says.
"Maybe 30 years later, when my website is more mature and I'm 90, you can call me a grandpa."
Source: China Daily