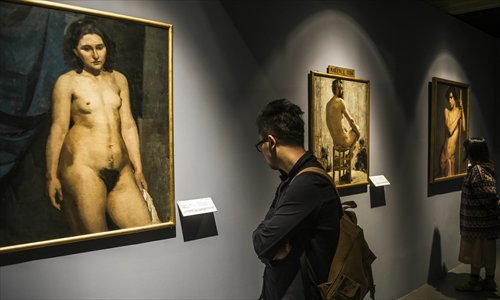 Exhibition A Master and His Masters at the Beijing World Art Museum Millennium Photo: Li Hao/ GT

Xu Beihong (1895-1953) is a huge name in Chinese art history. Not only are his paintings among the highest priced pieces on the market today, the academic tradition he helped establish continues to influence fine arts education in China to this day.
However, in recent years, Xu's name has become involved in several controversies such as how a painting attributed to him that sold for millions of yuan at auction turned out to be a fake or how some feel that his paintings have been overestimated in terms of artistic value.
Although discussion continues, these controversies have made the study of Xu and his works more valuable and timely than ever.
A rare opportunity
For the first time ever, Xu Beihong's paintings are being presented alongside works from famous French artists in the late 19th century and early 20th century, to include the professors Xu once studied under when he attended the école nationale supérieure des Beaux-Arts in Paris.
Involving a total of 123 art works, the exhibition A Master and His Masters has gathered collections from several preeminent art museums in France such as the Musée d'Orsay and Musée du Petit Palais as well as Chinese museums like the Xu Beihong Museum in Beijing. The exhibition is currently being held in Beijing and will later head to Zhengzhou, Henan Province, and Shanghai.
"This is the first time that an exhibition has examined Xu's experiences during his time in France from 1919 to 1927," said Wang Limei - curator of the Beijing World Art Museum Millennium, where the exhibition is being held - during the opening ceremony last Thursday.
The exhibition, which runs until August 3, is divided into two sections. The first section explains the social background and context in which Xu's paintings were painted, whereas the second section compares Xu's paintings to artworks created by the French masters who had an impact on Xu, especially the works of his four teachers: Francois Flameng, Pascal Dagnan-bouveret, Fernand Cormon and Albert Besnard.
Wang explained that the early 20th century was a time of instability and revolutionary social change for China. At the time a number of young people were traveling abroad in search of a way to bring change back to their homeland.
"Xu was one of these young explorers. While in France, he studied the core fundamentals of Western oil painting which he later employed to redefine modern Chinese painting. Many French works that have been brought to the Beijing exhibition represent the best European painting techniques of the time and through these works viewers who visit the exhibition will be able to see how Xu developed his own style based on the teachings of his French masters," Wang said.
A combination of styles
Xu's works include both traditional Chinese paintings and oil paintings. In this exhibition, Tian Heng and His Five Hundred Followers and Yugong Yishan (The foolish old man who moved mountains) are examples that demonstrate how Xu borrowed Western aesthetics and techniques to portray Chinese content.
Inspired by a story from the Records of the Grand Historian written by Sima Qian during the Western Han Dynasty (206BC-AD25), Xu spent three years completing Tian Heng and His Five Hundred Followers (1930). The painting is a great example showcasing how Xu employed European Classicism and Romanticism when presenting historical Chinese stories.
We recommend: