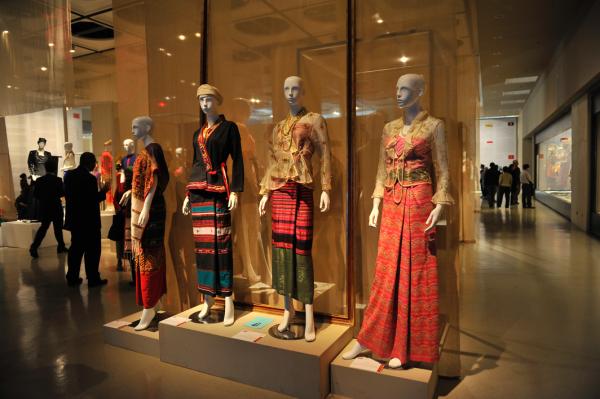 Traditional clothes and accessories from China and ASEAN countries are on display at the exhibition 'Glamour to Wear: The ASEAN and Chinese Costume Culture' held in China's capital city of Beijing. on April 8, 2014. [Women of China / Zhang Jiamin]
As part of the celebrations of the China-ASEAN Cultural Exchange Year 2014, an exhibition featuring traditional costumes from China and various other ASEAN (Association of South East Asian Nations) countries kicked off at the Chinese Museum of Women and Children in China's capital city of Beijing, on April 8, 2014.
The exhibition with the theme 'Glamour to Wear: The ASEAN and Chinese Costume Culture' is jointly hosted by the Ministry of Culture and the Ministry of Foreign Affairs of the People's Republic of China, and supported by several organizations and media outlets including the International Department of All-China Women's Federation (ACWF), Women of China, Chinese fashion brand NE•TIGER and ASEAN Embassies in China.
The opening ceremony of the exhibition was unveiled with a grand show, during which models presented traditional clothing of ASEAN counties as well as traditional Chinese clothing.
The exhibition mainly focuses on displaying the essence of traditional clothing from the various countries, showcasing the unique and exquisite skills of making clothes in different areas. It is a demonstration of development and achievement in clothing processing technology in ASEAN nations and in China.
Several documentaries on culture and the traditional clothes of China and ASEAN countries will also be shown during the exhibition.
The event will last until April 17.
China-ASEAN Cultural Exchange Year 2014 started in Beijing on April 7, with Chinese Premier Li Keqiang, Myanmar President U Thein Sein and Thailand Prime Minister Yingluck Shinawatra sending congratulatory messages to the event.
"The Chinese government attaches great importance to developing friendly relations and strengthening mutually beneficial cooperation with the ASEAN, hoping to take advantage of the Cultural Exchange Year to demonstrate fruitful result of cultural cooperation of the two sides and introduce cultural achievements to the world," Li said, noting that the event serves as a stage for cooperation among artists and peoples in different countries.