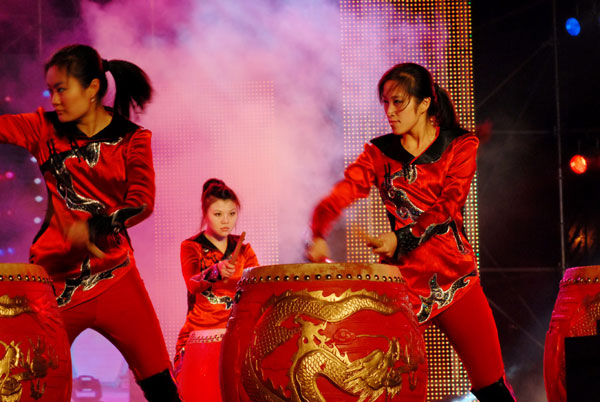 Red Poppy Ladies' Percussion, China's first, all-female percussion group.[Photo by Zhong Guilin/Asianewsphoto]
The year after the band started, they performed at CCTV's Spring Festival Gala, which was recognition of their performance. In June this year the group is due to return to Broadway for more than 100 performances of Mulan.
To keep the band fresh Zhou recruits new members every year and all the performers, who are in their early 20s, are professionally trained for percussion and Chinese drum technique.
Crystal Music Ensemble, the first band in Asia to perform with crystal-made instruments, closed the Beijing Week gala with six of their best works, including Rhythm of Five-Color Crystal and Banquet Fire.
The performers wore Peking Opera style and traditional Chinese ink painting costumes and played traditional Chinese instruments, including pipa and erhu, as well as Western violins and cellos, which were made with crystals.
The group's founder and a cellist, Zhang Shasha, said she started the band after she graduated from China Conservatory with some of her classmates because they shared a desire to revive traditional Chinese folk music and experiment with Eastern and Western instruments.
The idea for crystal instruments came from a performance Zhang watched at university in 2006 where a crystal pipa was played by Zhao Cong from the China National Orchestra.
"We found instrument maker Wang An, who imported crystals from UK and helped us make the instruments. Two years later, we started the band," recalled Zhang.
"We were so young and brave to take the risk since we were the first to do a crystal instrument band. But the result was good and audiences worldwide are amazed by our performances."
We Recommend: