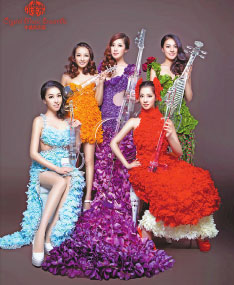 A poster of the Crystal Music Ensemble.
Two all-female bands, which harmoniously blend Eastern and Western music, performed at the opening gala of Beijing Week, a cultural event in Copenhagen on May 8.
Red Poppy Ladies' Percussion, China's first, all-female percussion group, opened the gala with two of their most popular works, Chinese Dragon and Mulan the Musical.
Chinese Dragon was the band's first original song when they started in Beijing in 1999. The band's eight members took to the stage in traditional Chinese costume and played on more than 20 percussion instruments. Their performance mixed classical and contemporary influences, from both the East and West, and paired fast beats with dramatic lighting and dancing.
Zhou Li, director of Red Poppy Ladies' Percussion, said it was not the first time the band had performed in Copenhagen but audiences were still overwhelmed by the storm-like drumming, which was backed up by a symphony orchestra.
Mulan the Musical, another of the group's original works created three years ago, saw the band perform on Broadway for more than 30 shows in January 2013.
The musical is based on the story of legendary heroin Hua Mulan, who pretended to be a man and replaced her aged father in the army. The show mixes traditional Chinese drumming techniques with loud, dynamic music as well as solos and quieter pieces.
The band's synchronistic drumming style provides a visual feast for this classic tale.
"The show keeps evolving since we added new music elements and plots into it," said Zhou. "It perfectly combines traditional Chinese culture with contemporary instruments and art forms."
"Mulan brings a different beat when you think of a musical, no signing, dancing, or dialogue. Drum is our sole language, which takes the audiences on the journey with Mulan," Zhou added.
The group has performed in more than 50 countries and in 2008, they participated in the Beijing Olympics' opening and closing ceremonies.
"We are very excited to see the development of the band, starting from one percussion player to now, around 20 members," said Zhou.
We Recommend: