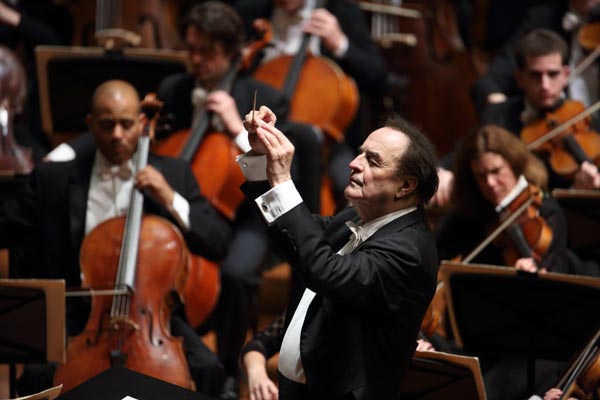 Swiss conductor Charles Dutoit takes the baton for the Boston Symphony Orchestra's second tour in China. Photo provided to China Daily
Returning to China after a breakthrough tour in 1979, musicians from the Boston Symphony Orchestra are savoring the country's change and continuing enthusiasm for Western music. Chen Nan reports.
Sitting in the lobby of a five-star hotel in Wangfujing, the iconic pedestrian street in the capital, 65-year-old Lawrence Wolfe is watching the stream of cars on Chang'an Avenue flow past at 8:15 am beneath the early-morning sun. Like many foreign visitors in Beijing, Wolfe carries his camera and is ready to head to the Great Wall for a second time.
"I was 31 when I first came here. How time flies! I really enjoy the miraculous architecture. I miss it very much," he says.
However, what evokes Wolfe's memories about China is far more than the Great Wall. Thirty-five years ago, as a bassist with the Boston Symphony Orchestra, he came to perform in Beijing and Shanghai along with other musicians of the BSO.
The orchestra is now wrapping up its long-awaited return to China, performing in Beijing, Shanghai and Guangzhou on a tour ending May 6 at the Guangzhou Opera House, marking the orchestra's first performances in China since its historic March 1979 tour under the baton of Seiji Ozawa. It was the first symphony from the United States to visit China after the establishment of diplomatic relations earlier that year.
"I had no idea about China back then," recalls Wolfe, who returned with the orchestra. "The moment we touched down in Shanghai, which was our first stop, everything was so overwhelming, such as the sea of bicycles, the Mao uniforms and especially people's enthusiasm about Western music and musicians."
We Recommend:
| | | |
| --- | --- | --- |
| | | |
| Highlights of Boston Symphony Orchestra's concert in Shanghai | Year of South Africa in China launched in Beijing | Francophile style |