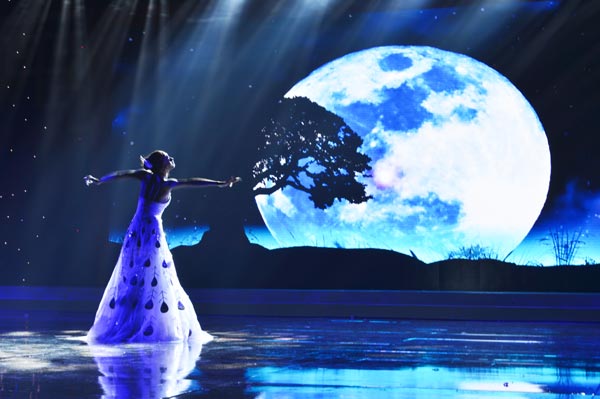 A Chinese artist performs at the Spring Festival show in Vientiane. Provided to China Daily
Chinese performers presented a Spring Festival show on Jan 25 in Vientiane, hosted by Yunnan TV and Laotian National Television to celebrate the Lunar New Year with a Laotian audience, as part of Yunnan's effort to promote cultural exchanges with Southeast Asian neighbors.
For about two hours, 180 local performers from Yunnan province showcased traditional and popular songs and dances at the National Convention Center in Vientiane, along with 20 Laotian performers staging their classic shows.
This was the second effort to take a Spring Festival gala abroad to share the joy with ethnic Chinese and local friends in the region; the first one was a success in Bangkok, Thailand, last year. The programs include acrobatics, opera and multi-ethnic dancing.
Yunnan shares more than 4,000 kilometers of border with Southeast Asia, an immense advantage for interacting with the neighboring countries. "The Spring Festival is the most important occasion for the Chinese people," says Li Xuemei, the coordinator of Yunnan TV for the gala. "Yunnan TV has to make the best of its geographic advantage."