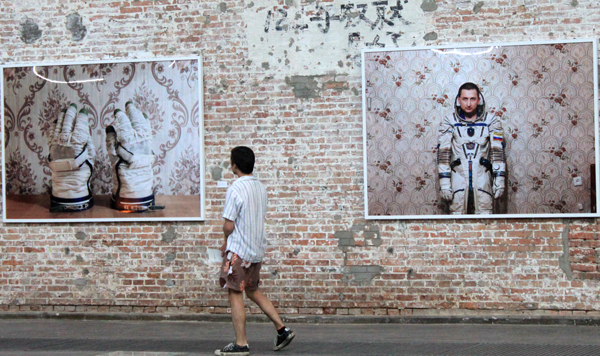 A man walks past the photos of Vincent Fournier, which are all about space stations. [Photo/chinadaily.com.cn]
An exhibition of French contemporary photography is currently underway at Beijing's 798 Art Zone, and it's a display that will surely stimulate the eyes to all those who visit.
The photos that make up the exhibit come from five aritists, all of whom graduated from Arles, France's national school of photography. The exhibition is part of the ongoing Croisements Festival.
Grégoire Alexandre, one of the five selected photographers, who mainly takes photos for magazines, has on display his studio work in an abstract fashion. He said, "I just give audiences an idea, and then you can imagine and start your own story from here."
His technical mastery of studio work has also turned him a renowned portrait artist. He has photographed famous celebrities such as Monica Bellucci, Vincent Cassel and Christian Lacroix.
Another photographer, Vincent Fournier, shares his fascination for the world of science by creating scenes with astronauts, robots and scientists. He said that he first became interested in science when he was just a child.
The other three artists, Dorothée Smith, Olivier Metzger and Aurore Valade showcase their own unique styles. Their work ranges from themes regarding the passing of time, to different interpretations on the styles of intimate, poignant and baroque portraits.
Info:
Date: May 11 to 26
Address: 798 Art District, No 4, Jiuxianqiao Road, Chaoyang district, Beijing
Tel: 010-59789182/89