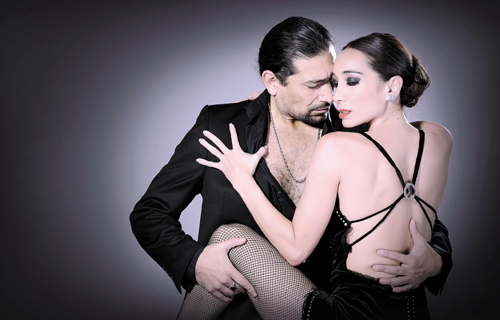 CHINA DAILY
Argentinian Mora Godoy mixes classical ballet and modern dance in her tango performances. The "queen of tango" says she plans to host workshops in her future China tours.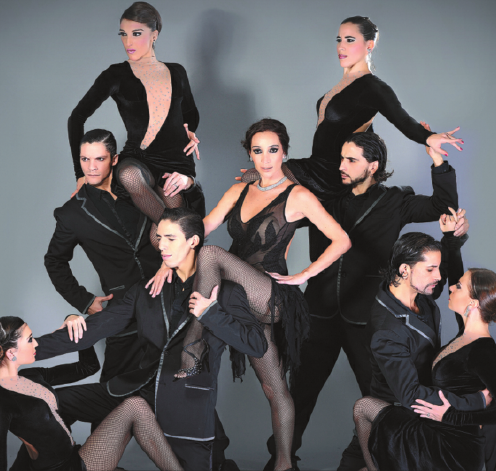 CHINA DAILY
Mora Godoy's shows display both the light­hearted and the sentimental sides of tango.
Glittering shows by masters of the dance keep Chinese audiences coming for more of this dramatic, sexy dance, Xu Jingxi reports from Guangzhou.
The "queen of tango" lifts a leg and slowly rubs down the leg of her male partner, a signature move that's guaranteed to quicken heartbeats in the audience. Then the clicking couple will show off their rapport as they swirl and sway across the stage. The dazzling footwork makes the black-haired woman in a sparkling sequined dress shine like a diamond. Mora Godoy, a contemporary star of Argentine tango, is proof of the dance's growing popularity in China. Her company's just-ending tour to nine cities here aims to present the authentic, sexy partner dance and stimulate the sprouting tango culture in China.
While her famous company bows out of the country with a final show tonight in Jinan, Shandong province, another tango company from Argentina, Tango Desire, is traveling across the country to 21 cities until Jan 29. The best-known Argentine tango scene for Chinese audiences may be Al Pacino as the blind colonel dancing with a young woman in the 1992 movie Scent of a Woman. Male and female tango dancers flirt with their legs, which are on ful display in Godoy's show.
But the choreography takes in more than traditional tango steps to make an entertaining, two-hour show.
"I mix tango with classical ballet and modern dance to create up-to-date tango. The old art needs innovation to stay alive," says Godoy, one of Argentina's most prestigious dancers and choreographers.
She studied classical ballet in Argentina and Russia, and was performing as a solo ballerina when she started to study and practice tango in the early 1990s.
Showcasing ballet techniques, such as lifts, splits and gyrations, on high heels or leather shoes, the dancers keep viewers on the edge of their seats with movements as thrilling as those in acrobatics or figure skating.
Tango originated in the 1890s along the border between Argentina and Uruguay and was popular among lower-income immigrants. When the sunset arrived, the sailors, workers and vagrants in Buenos Aires would gather in taverns to drink and dance through the night. People brought different dance steps and music from their own countries to the party and created tango, a dance that has influences from European and African culture.
It soon spread to the rest of the world, especially to Europe, as a ballroom dance and a stage art.
The five pairs of dancers in Godoy's show tell romantic stories of different flavors with tango. An amusing quarrel between a couple ends with a kiss; in another routine about a bitter break-up, the male dancer keeps pulling his female partner's back while she repeatedly swirls away from his chest.
A live band, featuring a pianist, a violinist, a double-bass player and a performer on concertina-a traditional instrument in tango music-offers lively sound effects to pull the audience into the stories.
The programming aims at displaying both the light-hearted and the sentimental sides of tango. The first half is full of exciting tricks, such as the difficult ballet moves and the sweet quarrel, while the second half is a lyric drama, which requires viewers to relax and feel the emotions.
However, as tango is new to many people in China, it seems that the Chinese audiences don't appreciate the beauty in the slow, sentimental part of tango. Some ticket holders at Godoy's show in Guangzhou Opera House on Jan 5 left during the second half, well before the show ended.
But Godoy exudes confidence about tango's market potential in China. Her company has visited China often since its debut tour here in 2003, which included eight shows at the Shanghai International Arts Festival.
"I've noticed that there are more and more professional tango dancers in China. I believe that we've cultivated a group of Chinese audiences who love watching tango after so many international tango companies came to perform in China in recent years," Godoy says.
"I added many difficult movements in the choreography because we need these new tricks to attract Chinese audiences. I think they will receive the innovations well."
The tango veteran plans to host workshops during show tours in the future.
"Chinese tango professionals can pass on what they learn from Argentine tango professionals to their students in China, which is important for tango's development in the country," Godoy adds.
Atta Ho, a tango dancer from Taiwan who is now running a tango studio in Guangzhou, is excited about Godoy's plan. But she thinks tango balls are more needed in China than "master classes".
"Compared to short-term training by foreign masters, a boom in regular tango balls helps the long-term development of tango more by creating a supportive atmosphere," Ho says.
According to Ho, there is only one tango ball hosted every two weeks in Guangzhou, which makes her miss the bustling nights in Buenos Aires with eight tango events to attend per night when she studied there.
In Shanghai, where tango has more fans than in Guangzhou, there are still only three or four tango parties every week.
Tango lover Yvan Schulz is a PhD candidate from University of Neuchatel in Switzerland doing research in China. He and his wife have found it difficult to find a good place in China to enjoy the dance.
"It is a pity that tango seems to have become an expensive recreation in China," Schulz says.
Thanks to its early introduction to Europe early in the 20th century, tango is popular on the continent. Tango festivals are often held, when tango lovers all over Europe gather in a country to take part in competitions, join masters' workshops and attend balls.
"A ticket for such a festival event in Europe is priced at $50 per night at most, while it can cost $100 in Shanghai," Schulz says.
In Guangzhou, Ho says that she limits her lesson fees and the ticket price to the tango balls she co-organizes to keep them affordable for most tango lovers.
Ho's tango training costs about 100 yuan for one lesson and she gives lessons to 40 students per week. A ticket to a tango ball (not a festival) is 40 yuan per night, while it is 60 yuan to 80 yuan in Shanghai.
"Tango is not for the rich and noble only. It originated as a social recreation for the populace in Argentina," Ho says.
"Tango's charm lies in its music and its miraculous magnetic force to pull two strangers together without verbal communication, not the fancy dresses and shoes."
Contact the writer at xujingxi@chinadaily.com.cn
IF YOU GO
7:30 pm, Jan 10, Opera Hall of Shandong Grand Theatre, the intersection of Rizhao Lu (Road) and Lashanhe Dong Lu (Road), Xicheng New District, Jinan, Shandong.
0531-5570-7333.
We recommend: