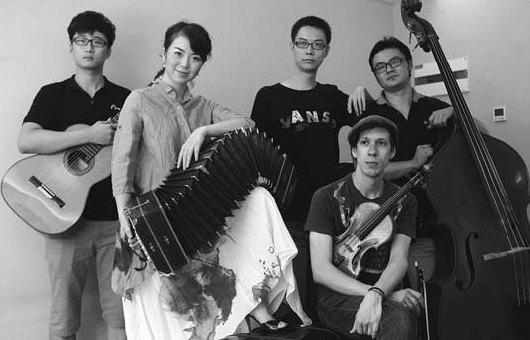 Tango Libertad band features Liu Shanshan, Spanish violinist Daniel Hurtado and three Chinese musicians: guitarist Zhang Wei, pianist Hui Dui and double-bass player Hu Jun. Zou Hong / China Daily
Liu Shanshan's childhood was not happy. Like many Chinese children, who are pressed by their parents to study musical instruments, she played accordion for hours every day.
Born in Chongzhou, Sichuan province, the big-eyed girl went to Xi'an with her soldier father and started learning the instrument at 5. Though her father told her it was noble and was seen as an army instrument because many red songs were played on it, Liu felt stifled by the accordion.
"I couldn't go out with my friends and I was a lonely kid," the 32-year-old Liu recalls.
Though her music training exposed her mainly to Bach and Mozart, she gravitated more to Michael Jackson, she says. But then she found tango music and it spoke to her heart.
"The bandoneon made my hair stand on end," she says of the accordion-like instrument favored by the composer Astor Piazzolla. "I fell in love with Piazzolla's music at once. I thought it was the coolest thing on earth.
"The sound of bandoneon played by left hand is low and warm but the right hand plays sharp, cold and high-pitched tunes," she says. "It contains loneliness, struggle and fire within at the same time."
She played Libertango, a Piazzolla masterpiece in 1974 for her graduation concert at the middle school attached to the Sichuan Conservatory of Music in 2002.
Liu went to Germany to study at Hanover University of Music, Drama and Media and obtained her master's degree in music education and accordion performance.
Ten years later, Liu would form her tango band, naming it Tango Libertad to reflect the band's pursuit of music freedom. She recruited Spanish violinist Daniel Hurtado and three Chinese musicians: guitarist Zhang Wei, pianist Hui Dui and double-bass player Hu Jun. They will give three concerts next week in Beijing, which will be the band's first public shows in the capital.
The program will feature works from the master Piazzolla, including Concierto para Quinteto, Invierno Porteno and Oblivion, and Milonga for Three, which can be heard on the soundtrack of Wong Kar-wai's Happy Together in 1997.
"Tango music makes my blood burn," says the 22-year-old Zhang, who studies guitar at the Sichuan Conservatory of Music. "When you suffer difficult moments, like being heartbroken, the music is a salvation."
Madrid-born violinist Hurtado was Liu's roommate when she studied in Germany, and he is excited to play the music in a Chinese band. New to China, he is eager to explore its music as well: "It's possible to do a new creation with the tango music."
Liu says tango, which had low origins in cheap dance halls and bordellos, was booming in the early 20th century and reflected life in the city of Buenos Aires, the capital and largest city of Argentina. From the 1960s to the 1980s, Piazzolla brought jazz and classical influences into tango, which has been termed nuevo tango, or new tango. Today, tango innovators sometimes merge it with electronic music.
Earlier this year, Liu completed master classes in bandoneon and tango orchestral arrangement at the Rotterdam School of World Music with Argentinean bandoneon master Victor Hugo Villena.
That experience capped years of finding her way.
In 2009, Liu worked as assistant to veteran singer-songwriter Dadawa, when she spent two years in a UN initiative to explore ways to preserve the cultural richness of ethnic groups in the midst of development. That vast exposure to Chinese ethnic music inspired Liu to experiment with tango.
In 2010 she found her way to Tango Chino Club, the first tango club in Beijing, which has given tango dance training to over thousands of Chinese people since 2008.
Ma Ke, the club's founder and director, was impressed by her talent.
"She is very persistent in tango music and full of creative ideas," says Ma, who first fell in love with Argentina football team first and then was eager to know more about Argentina culture, like music and dance.
In the tango club's early days, only foreigners living in Beijing joined in. But as more Chinese people became interested in tango, his club includes plenty of locals.
"Music is free. It will be enjoyed by people of different cultural backgrounds as long as we merge it in a proper way," he says. "I am looking forward to the tango music out of the Chinese musician's interpretation."
We recommend: