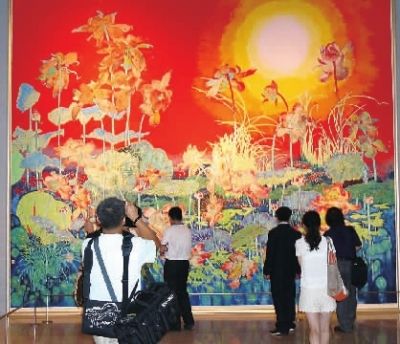 The Exhibition of Huang Yongyu's Art at the National Museum of China opened to the public on August 16 – without any special ceremony or speech, in accordance with the artist's wishes.
The exhibition consists of 5 sections, with the first section showcasing Huang's work from 1949 to 2004, highlighting his transition from woodblock printing to traditional Chinese painting after the establishment of the People's Republic of China. His most famous works during this period include: the wood block painting Lao Jun Tu, A Shi Ma, and the traditional Chinese painting Shan Gui.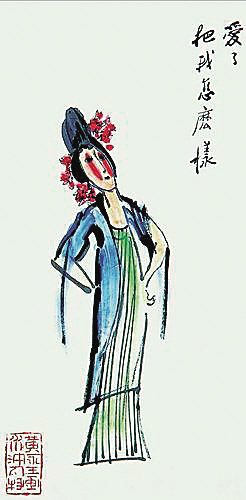 The second and third sections of the exhibition concern Huang's Chinese paintings from 2004 to this year, in various artistic styles, such as Chinese ink painting and heavy color painting, including Bai Miao He Hua (Underdrawing Water Lily).
More of Huang's works during the period from 2004 to this year are on display in the fourth section, including oil paintings, calligraphy, sculpture and glasswork. Notable works - such as sketches painted during a journey from Florence to Paris and glasswork fired in Venice - are on display.
The fifth section is a special exhibition area for the wall painting Unity of the Chinese People.
The most recent public exhibition devoted to Huang Yongyu was held in 2004, in cities such as Guangzhou, Changsha and Shenzhen and also in Hong Kong. This new exhibition showcases – for the first time - some of the artist's work since he turned 80.
Lv Zhangshen, curator of the National Museum of China, writes in the foreword of the exhibition: "This nomadic son of Feng Huang is a maverick, and is humorous, thoughtful and sociable," and "possesses eastern and western mainstream culture".
The exhibition will continue until September 16.
We recommend: