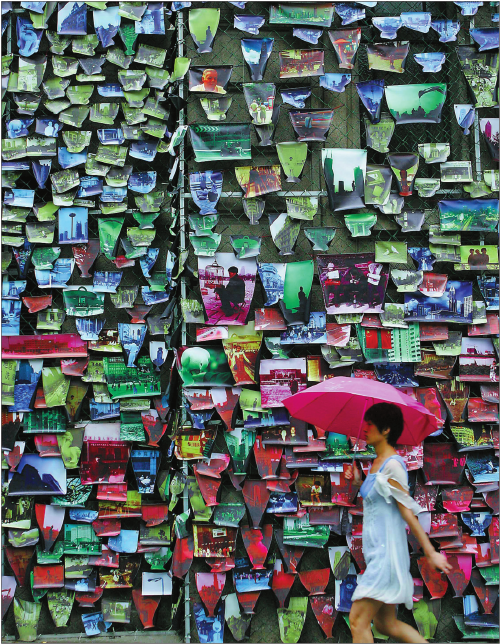 GAO ERQIANG/CHINA DAILY
More than 8,000 photos featuring People's Square in Shanghai, collected from the public, form one of the most dazzling exhibits at the Shanghai Biennial in 2008, which probed into the rapid social changes caused by urbanization.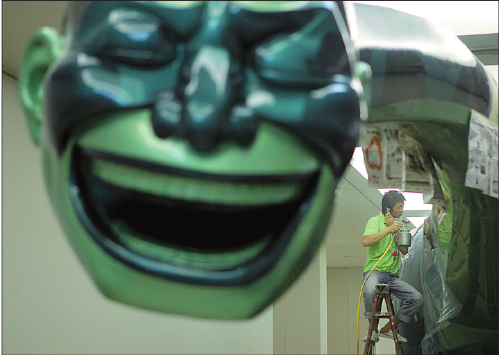 GAO ERQIANG/CHINA DAILY
Works by Yue Minjun on display at 2008 Shanghai Biennial.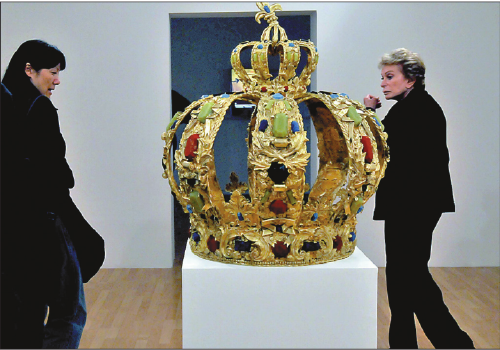 DONG HONGJING/XINHUA
The Shanghai Biennial has grown into one of the country's most significant art events since its 1996 debut, with themes and exhibits closely connected with the city's development and the country's new art trend.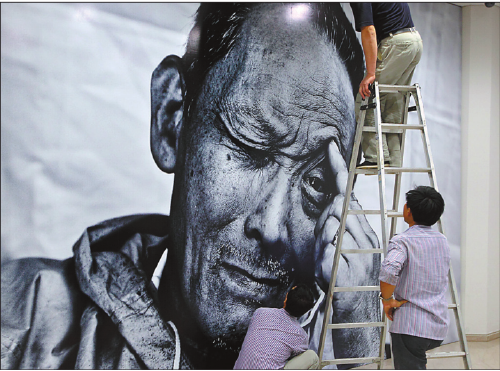 GAO ERQIANG/CHINA DAILY
The Shanghai Biennial has grown into one of the country's most significant art events since its 1996 debut, with themes and exhibits closely connected with the city's development and the country's new art trend.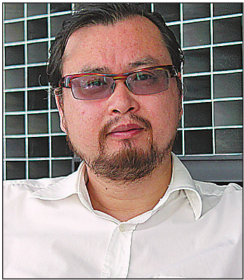 CHINA DAILY
Zhang Qing, former chief organizer of Shanghai Biennial.
Experts see professional biennials as a way to elevate the continent's defining contemporary artists, Xu Jingxi reports from Guangzhou.
A telephone and a thick phone book were all that Zhang Qing was given to make China's first genuine biennial happen. "The 'make-it-work' magic was my enthusiasm for biennales and determination to win back the right from Western curators to judge and choose Chinese contemporary art," recalls the curator who was the chief organizer of the acclaimed Shanghai Biennial from 1999 to 2012. In those memorable days, he sat in a hallway of the Shanghai Art Museum making phone calls one after another to raise sponsorships for the event in 2000. Chinese contemporary artists made their debut in a grand international exhibition in 1993 at Venice Biennial. Achille Bonito Oliva, the chief curator of the biennial at that time, came to China to choose what he thought represented Chinese contemporary art.
"In the 1990s, it was the West that set the standards for what is Chinese contemporary art and what qualified to be shown at international exhibitions and art markets. By hosting biennials, we have our own platform where we have a say about choosing contemporary art of China and other countries," Zhang says.
The Shanghai Biennial actually began in 1996, but prior to 2000 it mainly displayed oil and ink paintings by domestic artists.
The breakthrough came in 2000, when 67 artists from 18 countries and regions expressed their insights about the theme "Spirit of Shanghai" with more than 300 art works in a great diversity of forms including painting, sculpture, photography, installation art, video and architecture.
"The exhibition meets the three fundamental criteria of a biennial: contemporary, international and academic," says Zhang, whose big beard cannot hide his smile of pride. "The Shanghai Biennial 2000 was China's first genuine biennial and a landmark in the country's art history."
The biennial set a professional standard for successive international exhibitions in China, including insurance for exhibits, a panel of UNESCO experts to decide on awards, and a team of curators made of both experts from the host country and elsewhere.
Biennials have sprung up across China in recent years.
Funding is easier thanks to the rapidly growing economy. People's interest in art has surged as more can afford material and aesthetic pleasures. Foreign artists are also excited about coming to China, the vibrant new power, to showcase their works at all kinds of exhibitions.
"Many so-called 'biennials' fail to meet the three fundamental criteria. Some of them interpret the term 'biennial' superficially as an exhibition held every two years and display works of only one art category. I've seen such disappointing examples as landscape-painting biennial and tiger-painting biennial," Zhang says.
These unqualified shows were short-lived, while those biennials meeting strict standards stand the test of time, such as the Venice Biennale with its history of 118 years.
"Many biennials are named after the cities where they are held. So a good biennial's theme must be closely connected to the city's history and culture, and tell the stories of people living there," Zhang says.
Ivy Lin, a curator from Hong Kong Art Promotion Office, says she is impressed that the Shanghai Biennial has consistently focused on local social issues, such as urbanization and migrant population.
"What makes a biennial interesting is that artists share with the audience their various opinions about the social changes have happened in the past two or three years," Lin says.
Moreover, a biennial or triennial is able to go deeper academically by engaging artists in the pursuit for solutions to the social problems, according to art critic Duan Jun.
He gives a thumb's up to Guangzhou Triennial's Delta Laboratory, a project which invites artists at home and abroad to come to the Pearl River Delta to find inspiration for their art and exhibit it there.
Social groups that have aroused artists' interest include people living in villages inside big cities, children of migrant workers, beggars and sex workers.
Watching these people's lives and talking to them face-to-face fueled artists' passion about their creations so they came up with interesting forms of expression, such as experimental drama.
Zhang, the experienced curator who is now director of National Art Museum of China's research and curatorial department, says many curators in China lack the ability to conceive a thought-provoking exhibition theme.
September's Asian Art Curators' Forum hosted in Guangzhou offered participating Chinese curators a great opportunity to learn from their peers elsewhere in Asia and the West.
The National Art Museum of China also hosted a seven-day professional training course last year for 36 curators from art museums across the country. It included case studies and lectures by experts from home and abroad on curatorial theories in China.
"Art museums shouldn't be responsible for offering curatorial training. But none of the universities in China has established a major in curatorial practice. The training is only part of the course about art management and the instructors don't have much working experience as curators," Zhang says.
However, Zhang is confident that Asian art museums and exhibitions will catch up with the West.
Despite their short histories, some biennials/triennials hosted in Asia including Yokohama Triennial in Japan, Kwangju Biennial in South Korea, Singapore Biennale and the Asian Art Biennale held in Dhaka, Bangladesh, have attracted global attention with their distinctive styles and reflections of the hosting countries' cultures.
Zhang says he is most impressed by the biennale in Bangladesh, where the government and people are passionate about developing art though the country suffers an undeveloped economy and regular unrest.
"With people dedicated to art development like those in Dhaka, Asian biennials/triennials will quickly grow into shows as influential as those in the West," says Zhang. "The rich and profound cultures of Asian countries are the best soil for art to grow."
Contact the writer at xujingxi@chinadaily.com.cn.
We recommend: