BEIJING
Revival of ancient art style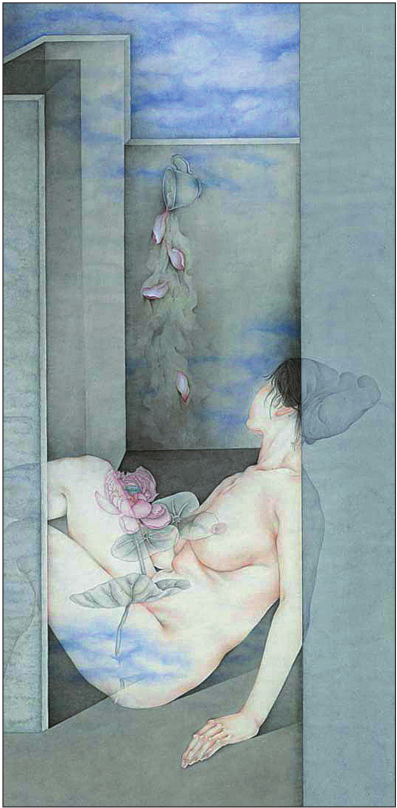 Female painter Zhang Yidan is acclaimed for reviving the artistic spirit of Bada Shanren, aka Zhu Da, the ink painting master of late Ming (1368-1644) and Qing (1644-1911) dynasties. She further diversifies her creations by absorbing the elements of portraits in the gongbi style and mountain-and-water in the xieyi approach, which she followed the discipline of noted painter Tang Yongli and Long Rui respectively. Under her meticulous strokes, Zhang has touched upon the loss, loneliness and solitude of urbanities. Her current solo exhibition at Prince Kung's Mansion displays 40-odd ink-andcolor works that bridge today's audience with the spiritual world of ancient art.
8:40 am-4:50 pm, until Nov 22. Jiale Hall of Prince Kung's Mansion, 17 Qianhai West Street, Xicheng district, Beijing. 010-8328-8149.
Movie soundtracks on piano
American jazz pianist Bill Mays will perform Piano Recital: Bill Mays Hollywood Classic Soundtrack in Beijing. The 69-year-old musician started learning piano at 15 and eventually became a fixture in Hollywood recording studios more than 40 years ago. He will perform soundtracks from Superman II, Julie & Julia and The Ice Storm.
7:30 pm, Nov 15. Forbidden City Concert Hall, West side of Tian'anmen Square, Xicheng district, Beijing. 400-610-3721.
Crosstalk for young and old
Comedian Gao Xiaopan, together with his team from Hip Hop Crosstalk Club, which he founded five years ago, will give a show in Beijing, kicking off the annual xiang sheng gala organized by China National Radio. With six crosstalk (or xiang sheng) performances throughout November and December, established masters, including Li Jindou, Jiang Kun and Feng Gong, will gather onstage, along with young rising comedians.
Nov 15 to Dec 21. Hip Hop Crosstalk Club, Guangmingge Theater, No 61, Gulouxidajie, Xicheng district, Beijing. 400-610-3721.
Art of figures
The National Art Museum of China is presenting Reality and Transcendence-the Chinese figure painting exhibition of artist Lu Shufeng. Born in 1963, Lu has been nurtured by the rich culture of Chang'an art school and Huangtu art school developed in Shaanxi province. His works combine reality and imagination, using contemporary ink art to express the flavor of the times. The exhibition features more than 80 ink paintings and illustrations Liu created during the past 30 years, including his major series such as The Miners and Tibet.
9 am to 5 pm, until Nov 21. Hall 8 and 9, National Art Museum of China, 1 Wusi Dajie, Dongcheng district, Beijing. 010-6400-1476.
Retrospective show
Chinese Academy of Oil Painting is presenting the retrospective exhibition of Chinese artist and scholar Zhong Han. Born in 1929, Zhong witnessed the revolutionary years during adolescence before entering the Central Academy of Fine Arts in 1955. The solo exhibition features more than 370 of Zhong's oil paintings and sketches, as well as about 100 pieces of his literal works.
9 am to 6 pm, until Nov 18. Art Gallery of Chinese Academy of Oil Painting, 1704 Wenhuayishu Xinjie, Gaobeidian, Chaoyang district, Beijing. 010-8773-9327.
Evolution of oil painting
The Meilidao International Art Institution is presenting Colorful-Chinese Oil Painting Exhibition. The exhibition is the first cooperation between Meilidao International Art Institution and China Oil Painting Society, which reflects what the Chinese oil painters have contributed to Chinese oil painting development. The exhibition features 47 pieces from different artists, each with remarkable individual style. Through these artworks, the audience can have a peek of the development of Chinese oil painting.
10 am-6 pm, until Nov 30. Meilidao International Art Institution, 32 Baiziwan Road, Chaoyang district, Beijing. 010-5826-3255.
SHANGHAI
Photographs for adults
The work of Japanese photographer Nobuyoshi Araki is on display at the Himalayas Museum. The show was scheduled to conclude on Nov 6, but the museum has decided to extend it to Jan 6, 2014, due to popular demand. The exhibition consists of his major series, starting with Sentimental Journey featuring his wife Yoko Araki on their honeymoon, and concluding with his latest creation Decadence in Paradise. Most of his photographs are erotic, and the museum says the show is appropriate only for audiences aged 16 and above.
10 am-6 pm, Tue-Sun, till Jan 6, 2014. Shanghai Himalayas Museum, 4F, 869, Yinghua Road, Pudong New Area, Shanghai. 021-5033-9801.
Best of musicals
A concert of highlights from musicals by dramatist Alain Boublil and composer Claude-Michel Schoenberg such as Les Miserables, The Pirate Queen, Miss Saigon, Martin Guerre and so on, will be presented at Shanghai Grand Theatre. Singers such as Michael Ball, Lea Salonga, Marie Zamora, Amanda Harrison and David Harris will sing with music and chorus from Shanghai Opera House.
7:15 pm, Nov 27-Dec 1. Shanghai Grand Theatre, 300 Renmin Avenue, Shanghai. 400-106-8686.
GUANGZHOU
Thibaudet in concert
World-renowned French pianist Jean-Yves Thibaudet will collaborate with the Guangzhou Symphony Orchestra to stage Dvorak's best known work, New World Symphony, and American composer Leonard Bernstein's two scores-the overture of opera Candide and The Age of Anxiety Symphony-at a concert in Guangzhou on Nov 17. Known for his poetic performing style, Thibaudet was given the lifetime achievement award at the French music award "Music's Victories" in 2007. Lin Daye, the conductor, will give a one-hour lecture before the concert starts to guide the audience to appreciate the symphony.
8 pm, Nov 17. Symphony Hall, Xinghai Concert Hall, 33 Qingbo Lu, Ersha Island, Yuexiu district, Guangzhou. 020-8735-3869.
We recommend: