The China Shanghai International Arts Festival will kick off on Oct 18 at Shanghai Culture Square with a modern dance production of Swan Lake by Les Ballets de Monte-Carlo, Monaco.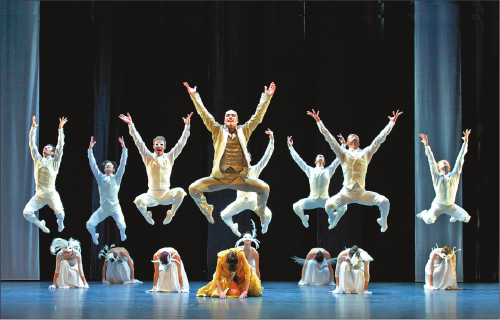 Swan Lake by Les Ballets de Monte-Carlo, based on the music of Tchaikovsky, tells the story in a modern setting.
It will close on Nov 18 with the performance of an original musical from Shanghai Opera House, The National Anthem, at Shanghai Oriental Arts Center. It tells the story of modern composer Nie Er and his composition of China's national anthem.
Celebrating its 15th anniversary this year, the festival has set the big productions in lieu of grand opening and closing ceremonies for the occasion.
"We will take further measures to simplify the ceremonies and save costs, and use the money to provide more funding for the low-price tickets, and invite more people to the theater," says Zong Ming, secretary-general for the festival organizing committee.
"In the past 14 years, China Shanghai International Arts Festival has become a cultural name card of the country in communications with the world, as well as an annual feast of art for the people of Shanghai," he says.
"We have managed to face the challenges and keep bringing new surprises every year."
French choreographer Jean-Christophe Maillot emphasizes the tradition and believes dance has to relate to contemporary life, to inspire emotional resonance from audiences. His Swan Lake is still based on the music by Tchaikovsky from 130 years ago, but tells the story in a modern setting, where dancers wear costumes glued with thin feathers, rather than tutus.
The festival also features My Beloved, an original musical production from Shanghai that explores the deep connection between a single mother and her son. With this project, "we are hoping to explore the possibilities of China's own original musicals", says Teng Junjie, artistic director of the Shanghai bureau of culture, radio, film and television.
Shanghai Grand Theatre will reopen during the festival after a large refurbishment project that went on for nine months.
The theater will present its premiere of the opera Attila by Giuseppe Verdi, jointly produced with Palace of Arts Budapest.
Attila ruled the Hunnic Empire in the 5th century and the opera tells the story of Attila's invasion of Italy and his last days there, till a woman named Odabella assassinated him in revenge for the murder of her father and aggression against her home country.
"The play has the elegance, beauty and grandeur, all typical of Verdi, yet it has not been staged as often as many other Verdi works," says Zhang Zhe, director of Shanghai Grand Theatre.