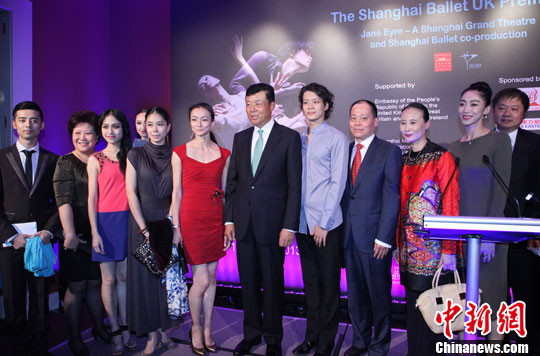 Dancers from Shanghai have brought modern ballet Jane Eyre to London, and planned to give five performances at the London Coliseum from Wednesday to Saturday.
The performance, which attracted an audience of about 2,500 on the first day, was the overseas debut of the ballet since its premiere in China last November.
"We should celebrate the return of Jane Eyre to its British birthplace in the form of ballet," said Liu Xiaoming, Chinese Ambassador to the UK who watched the performance Wednesday evening.
"I am sure it will bring UK audience not only a familiar story but also new cultural and artistic enjoyment," he said.
London Mayor Boris Johnson hailed the ballet "a fantastic example of how we are growing ever closer as we share the best elements of our cultures" in his message for the performance.
Jane Eyre is a classic Victorian novel written by the famous British writer Charlotte Bronte. Shanghai Ballet Company interpreted the well-known story in its distinct way through ballet, which emphasized the inner world of the main characters as well as the role of the "mad" wife of Mr. Rochester.
"We would like to bring a different Jane Eyre to the British audience, and prove that Chinese dancers could not only interpret Chinese stories, but foreign classics as well," said Xin Lili, director of the Shanghai Ballet Company.
"We have always hoped to bring Chinese ballet to the world, so we found this story that western people are familiar with and involved foreign staff in our group, as they know better what western audience like," said Zhang Zhe, President of Shanghai Grand Theater Arts Center.
Frederika Davis, who has worked for Britain's leading dance monthly Dancing Times since the 1960s, said "it is interesting and the dancing is beautiful."
On the last scene, when Eyre, Rochester and his ex-wife removed their dresses and coats, sitting on the bench shoulder by shoulder, Xin Lili explained "it is meant to indicate that they finally removed their masks in the earthly life, and forgave each other."
We recommend:
Comedic Peking Opera entertains in open air
Chinese acrobats perform in Kingston, Jamaica
Chinese opera 'Journey to the West' performed in New York