In celebration of the 90th anniversary of the Chinese Communist Party, Document Research Association of CPC, the Institute of China's Modern History and research centre of State Ethnic Affairs Commission is holding an oil painting exhibition at the National Art Museum of China from May 6 to 16. The exhibition is co-organized by other institutions such as National Fresco Society and sponsored by Huangshan Monkey King Tea Industry Technology Co. LTD.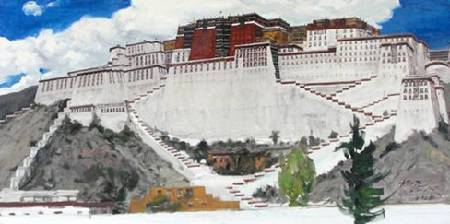 There are three exhibition areas for the exhibition. The first area displays the oil paintings of "the Party's glorious course", reflecting the CPC's 90 years of extremely hard and bitter striving on a magnificent scale. The second area displays works of the "portraits for CPC's heroic martyrs", mainly reflecting great images of what the Chinese communists sacrificed during the revolutionary war. The third area contains nearly 100 excellent artists' sketchings and paintings in the theme of "CPC's policies on ethic affairs are good". The pieces were created in Xinjiang, Tibet, Neimenggu, Guangxi, Ningxia, etc. These artistic works are vivid and thoughtful. They reflect the prosperity of ethnic minority areas and happy life of ethnic groups. The paintings are also gifts from the oil painters to the 90th anniversary of the founding of the Chinese Communist Party.
The painting Old Village Man is the profile of an old Uygur man. The painter said the prototype for the work is an old grass-roots party member who comes from Yugou village. His white beard enhances the unity of the painting; it perfectly shows the vigorous mien of this old man. This painting reminds people the ordinary workers who work everyday on extremely ordinary operating posts can create extraordinary achievements for a whole society.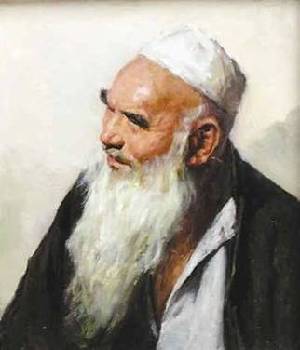 The painting The old and new party members on Xilin Goi Prairie has rich characteristics of grasslands. The elder woman wears a purple-brown Mongolian robe while the younger wears a blue one. They appear to be mother and daughter, revealing a feeling of deep love. The prototypes of this work are two female party members. The elder woman has wrinkles on her face; she sits smiling and relaxing after years of hard work for the prosperity of the region. The younger lady in the painting looks confident and wistful. Her eye contact shows her commitment to future.