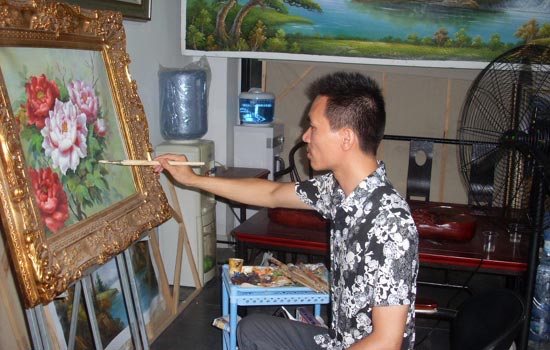 Xie Guoqing made about 300 yuan ($47) a month when he began as an apprentice painter 16 years ago. Today, he owns his own studio in Putian, Fujian province. [Photo / China Daily]
Holding a paintbrush is as natural as using chopsticks for Xie Guoqing.
His familiarity with painting began 16 years ago when he served as an apprentice to a skilled artist in Putian in East China's Fujian province, the home of tens of thousands of oil painters like 32-year-old Xie.
"It was like working at a factory in the very beginning," he said, recollecting the early days when he studied art for 15 to 16 hours a day.
He paid 3,000 yuan ($471) for a year's tuition and then spent his days next to his teacher, observing everything he painted, and trying his hand at the easiest paintings.
"As you see more, you have a sense of what it is all about," he said.
His salary increased as he grasped the basic skills of oil painting. By tackling the orders his teacher assigned, he earned 300 yuan a month at the beginning of the second year, which jumped to 3,000 yuan by the end of the third year, when he could handle relatively complex works.
An oil painter could earn 10 times the salary of a junior high school teacher in Putian when the market was thriving in the 1990s.
Some of Xie's fellow painters were even shyly approached by young women for marriage, as they preferred their prospective husbands to be in the profession.
Xie's wife is an oil painter, too. Painting is almost his "family business" as another six of his relatives have also taken up the paintbrush.
Following a three-year apprenticeship, he left his teacher to work on his own, which was a common practice for young painters.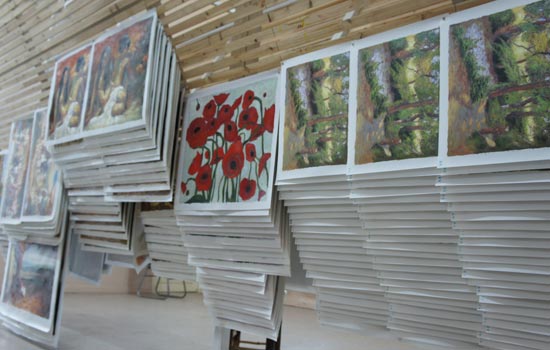 Reproductions at an art studio in Putian, Fujian province. [Photo / China Daily]