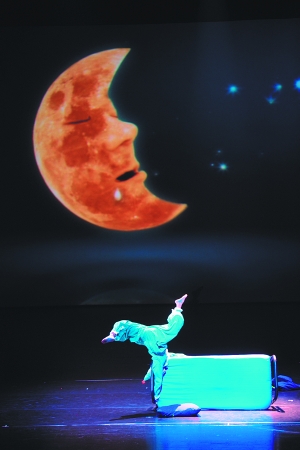 Children's dramas sprout up as quickly as bamboo during the summer vacation. This year the annual Shanghai International Children's Drama Festival features productions from both home and abroad.
The festival is focusing on the theme Children's Heart and Children's Dream.
Troupes from Poland, Australia and China are on the performing list.
"The Giant and the Spring," presented by O Troupe from Taiwan, tells a warm story about sharing.
It is adapted from the picture book of the same name. It starts with a giant waking up on a cold day and noticing a small figure at the window. He opens the window and sees a boy shivering in the cold. He brings the boy, who is named Spring, in his house.
The giant likes Spring because he feels warmer and happier. He wants to keep Spring to himself, leaving the world to remain stuck in winter forever. But by locking Spring up, the Giant also locks his own heart.
"Paper Windmill Fantasy," presented by Paper Windmill Troupe from Taiwan, is all about using your imagination. Various artistic ways are used to stimulate the imagination of children.
Drumbeats make kids want to dance, elastic bags with actors inside jump to life while black lighting is used to create a conflict between traditional and modern life.
The puppet show "Sailors" by Terrapin Troupe from Australia combines puppets and acrobatic elements. It features the amazing adventure of two sailors and a chicken on a desert island with a Mexican hat.
The musical "Shh! There Are Bugs" combines a puppet show with modern dance. The BTL Troupe from Poland says it was inspired by a documentary on insects, and tries to present an insect world similar to the human world. Every species has its own worries and problems.
"Snow White and the Seven Dwarfs" is a puppet show with a twist on the well-known children's fable.
The children's play "Cinderella," begins like the original with Cinderella attending a royal ball. But this version goes on to focus on three other girls - one from China, Russia and America.
The various shows will take place at Shanghai Children's Art Theater, Malan Flower Rehearsal Hall or Shanghai Puppet Theater Exhibition Center.
 We recommend:
| | | |
| --- | --- | --- |
| | | |
| | | Forbidden City Concert Hall hosts family-friendly music events |