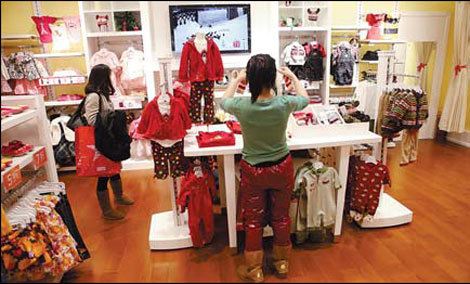 Trendy children's clothing stores have proliferated in shopping malls. Provided to China Daily
Chinese parents are putting in more effort and spending more money to make their children look fashionable, as income levels rise.
Chen Ni, a young mother of a 2-year-old girl in Changzhou, Jiangsu province, says she spends a lot of time on buying clothes for her daughter.
"I never allow others to buy clothes for my daughter," Chen says. "There are so many factors to consider when selecting a piece of clothing for a child, such as colors, styles, materials and so on."
She buys mostly from shopping malls and online shops that sell imported clothes.
She follows fashion blogs on children's wear for inspiration, and visits online parenting forums to discuss ways to dress up children, and where to buy pretty clothes.
The price of children's clothing is relatively more expensive than those of adults, but Chen says the money spent is worth it.
Chen is not alone.
According to Sun Yiding, president of Gymboree China, a popular children's wear brand, the children's apparel market in China is growing rapidly, thanks to the generosity of Chinese parents.
"Price is the last thing on parents' mind when they buy clothes for their children," Sun says.
"Buying clothes for kids is a family event, especially since many Chinese families have only one child."
The children's apparel market in China expands by at least 15 percent annually. It is estimated that by 2015, the market value of children's clothes will reach up to 150 billion yuan ($24 billion), Sun adds.
Dai Guichuan, 34, a mother of a 3-year-old girl in Shanghai, says she always picks up clothes for her daughter when she shops, and her only considerations are: whether the dresses look pretty on her daughter, and whether the brand uses good quality, safe material.
Her daughter attends an expensive international kindergarten. The class has about 20 children, and whenever the parents gather, children's fashion tops the agenda.
Dai says although her daughter is so young, she knows fashion and will choose what she likes to wear every day.
Sometimes Dai feels that her daughter's wardrobe is too full. Last winter, she bought six down jackets for her daughter.
But she says her husband, a businessman, is incorrigible when it comes to shopping for their daughter. He will buy whenever he sees any clothes he deems suitable for the little girl, Dai says.
"When we were growing up, there were few choices in the market, and we couldn't afford then. Now there are so many good quality and beautiful clothes for children. It is a good thing," she adds.
liuzhihua@chinadaily.com.cn
By Liu Zhihua