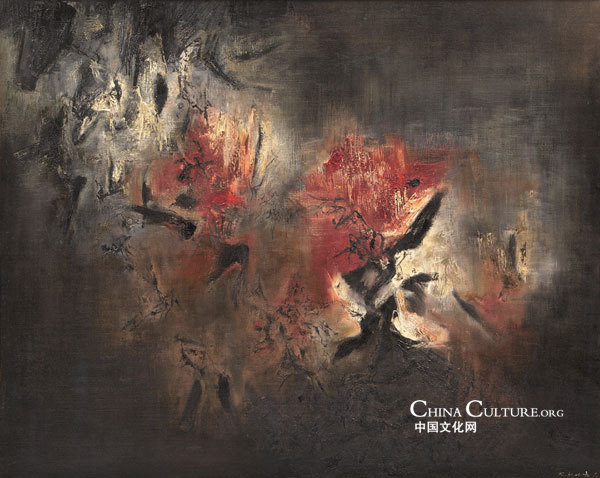 Zao Wou-ki Abstraction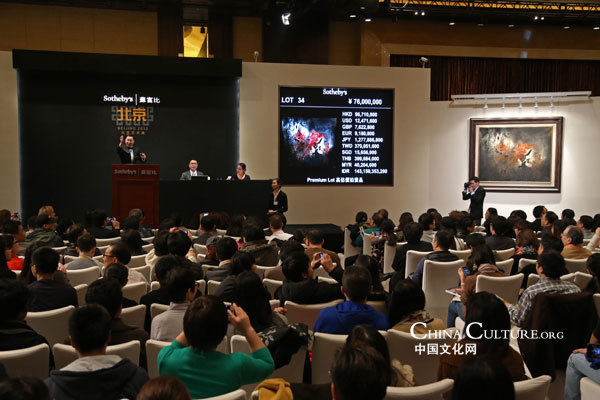 Sotheby's Beijing Art Week auction scene

Sotheby's hits auction record for Chinese modern master Zao Wou-ki painting Abstraction. 
The 2013 Sotheby's Beijing Art Week concluded inBeijingwith an auction and achieved RMB 227,133,480 (US $37,278,386), setting a record for Chinese modern master Zao Wou-ki when Abstractionfrom 1958 sold for RMB 89,680,000 (US $14,718,771), smashing the pre-sale estimate of RMB 35,000,000 - 45,000,000. The art week was held from November 20 to December 1.
Eight bidders - five on phones and three in the room - competed in an intense bidding battle for nearly five minutes before a bidder in the room, Zhang Xiaojun, a collector from Shanxi province, North China, prevailed. The price eclipsed the previous auction record set by a Zao Wou-ki painiting, US $10,928,205, at Sotheby'sHong Kongon October 5 of this year with his15.01.82.Sotheby's currently holds the top six auction prices for the artist. Another work by the artist offered in the sale,Abstract Landscape 27.08.91, brought in RMB 44,840,000 (US$7,359,386), soaring past pre-sale estimates of RMB 4,000,000 – 6,000,000. Other sale records were also set for the artists Li Guijun, Chen Fei, Duan Jianwei, Liu Renjie and Ma Ke.
Kevin Ching, Sotheby's CEO in Asia said that Sotheby's Beijing Art Week confirms the company's strategy to develop the art market in China via a specially curated Chinese art auction in Beijing that catered to the taste of collectors in China, brought new clients into their salerooms and achieved strong results.
Attended by over 750 people, the auction was the culmination of Sotheby's Beijing Art Week, which brought Chinese and Western art worth RMB 1.3 billion (US $212 million), including a series of selling exhibitions of Western art ranging from portraits by Rembrandt, Picasso, a sculpture by Rodin, and 19th Century furniture and decorative arts to Beijing, which was open to the public at the China World Summit Wing.
We Recommend: