New Wing Stedelijk
Guest City of Amsterdam will be snatching attention and provoking some thought at this year's Beijing Design Week through their "Design goes Dutch" multi-platform list of events. Amsterdam will be housed for the duration of Beijing Design Week at The Tank @751 while other leading Dutch design exhibits will also be on view at the Capital Museum, Dashilar, Beijing Temple of Confucius & Imperial College Museum and the China Museum of Digital Arts from 26 September till 3 October.
Marcel Wanders' Knotted Chair, Gerrit Rietveld's Red and Blue Chair, Hella Jongerius' vases: Dutch design is famous worldwide. Dutch Design presents innovative contributions to contemporary global issues, from the tiniest of details to large-scale urban planning issues, and in so doing creating new approaches to the discipline of design itself.
In its Guest City, led by figure head Marcel Wanders, programme Amsterdam aims for a cross-disciplinary and integrated approach to design, making it an excellent tool to strengthen and deepen the cooperation agreement Beijing and Amsterdam have in place. "Design goes Dutch" is about the intersection where designers from Amsterdam, from Beijing, and from around the world meet on equal footing and contribute jointly in formulating design solutions to the pressing issues.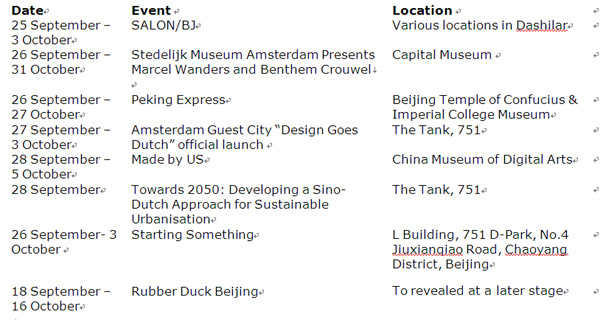 "Design Goes Dutch" @ The Tank
The home of Beijing Design Week's 2013 Guest City Amsterdam's "Design Goes Dutch" will be at The Tank at 751. In addition to highlighted events including the official launch of Amsterdam City at Beijing Design Week and Towards 2050's public presentation and seminar, The Tank will serve as Amsterdam's Beijing home.