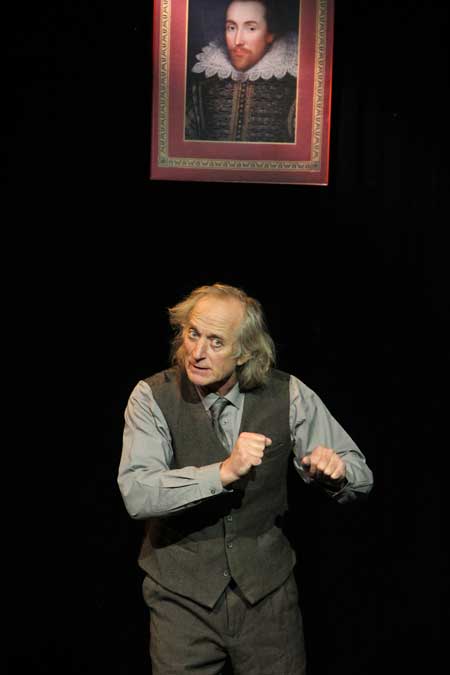 Joseph Graves performs his one-man show Revel's World of Shakespeare at Oriental Palace Theater in Beijing. Provided to China Daily

Theater auteur Joseph Graves has either directed or acted in all of Shakespeare's works over the course of his career. He tells Han Bingbin about how the English playwright has impacted his life.
A chair, a desk and a solemn picture of William Shakespeare shape the haunting simplicity of the tale Joseph Graves single-handedly weaves in Revel's World of Shakespeare, a complex, wildly comedic and deeply moving story of his childhood confusion and exploration related back to "the greatest of English writers".
Just like in Shakespeare's absorbing monologues, numerous times we think the protagonist is approaching the edge of emotional collapse - sweat trickling and body trembling - his passion, however, never stops burning.
"When you are alone on stage, your performance is usually that of a storyteller communicating directly to the audience, and this aloneness requires an unusual amount of sustained energy," says Graves.
In his 35 years as a professional director and actor, Graves has performed several one-man shows, including most recently a one-man version of Homer's The Iliad in New York City. Revel's World of Shakespeare, however, is still one of the most emotionally challenging.
In it, Graves autobiographically explores the first two years of an "alternately hilarious and stormy relationship", which ultimately spanned some 40 years, between him and Clive T. Revel, a brilliant yet alcoholic headmaster of The Chelsea School for Boys in London where he matriculated in the 1960s.
It was at the "difficult and demanding" style of Revel that Graves, at the age of 6, was first formally introduced to Shakespeare. Since then, Shakespeare has been a huge part of his life. After receiving his professional training at the London Academy of Music and Dramatic Art, Graves has directed or acted in all of Shakespeare's plays, some of them several times, in addition to dozens of his original creations.
"Shakespeare in some very real sense has helped define me, and perhaps, all of us in a far greater way than we realize," he says.
We recommend: