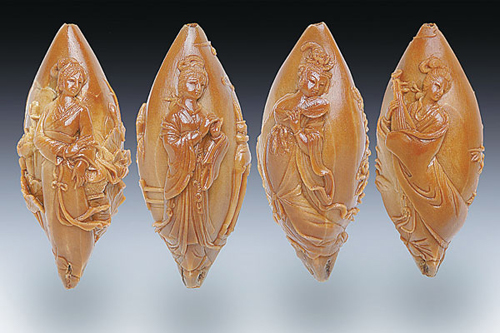 Four Ancient Beauties kernel carving by Lu Xiaoqin. Provided To China Daily
In a refined kernel-carving shop at China Artwork City in Guangfu, Xu Zhongying is busy receiving customers from home and abroad. Some of them would like to pay hundreds of thousands dollars for her work, but few of them know Xu almost gave up the skills in her 20s.
"When I became a worker in a local kernel-carving factory, I could barely made a living with the meager salary, as few people would buy 'an entertaining thing' in the 1970s," recalls Xu, now 57.
Kernel carving, known as hediao in Chinese, is a traditional micro-sculpture made from the kernel of olive, peach or walnut. Guangfu, a town in Suzhou of East China's Jiangsu province, is famous for olive-kernel carving.
"I was always confident with my skills. Fortunately, more and more people have begun to appreciate this folk art," Xu says.
Kernel carving's earliest record dates back to the Song Dynasty (960-1279) and it prospered in the Ming Dynasty (1368-1644). The ancient craftsmen displayed their consummate skills on kernels less than 5 cm long, on which human figures, animals, landscapes and even some lines of poems were carved.
After some hard years, kernel carving regained its popularity around 2008, when it was put onto the National Intangible Cultural Heritage list. Artists now mull innovations in the art and how to keep the town's specialty from disappearing.
Lu Xiaoqin, 37, another kernel-carving artist in Guangfu, is famous for expanding the subjects of the art beyond traditional Buddhist figures such as Arhats.
"Customers' tastes are increasingly varied now, and some of them are tired of Arhats' usually simple and sometimes rough lines on kernels. They want to see something different," she says.
Lu spent around two months carving her latest work of China's Romeo and Juliet - Liang Shanbo and Zhu Yingtat - that won a national prize. The two household lovers had never appeared on a kernel carving before, but Lu believes "it presents a folk story on a work of folk art".
For Lu, carving a kernel is difficult as each piece of raw material is different in texture and rigidity. She once majored in painting and often draws a blueprint on a kernel's surface first. She says that the whole carving process constantly requires reconsideration and creation, and there is no established pattern to follow.
As a mother of a 15-year-old child, Lu hopes more post-1990 people can boost kernel carving with their "solid cultural knowledge and colorful imagination".
She is currently teaching a class at Suzhou Tourism and Finance Institute and expects to have more students in the future.
"I am glad to see some of them, including my child, have interest and talent. For instance, if they can use their three-dimensional design skills into carving, there may be more surprising innovations," she says.
But Gu Xiaodong, an owner of a kernel-carving shop at China Artwork City, worries about computer technology's impact on the folk handicraft as "computers cannot replace human beings regarding to the genuine handcraft skills". Now, more than 50 percent of the carvings are made by machines on an assembly line.
"I think the country and people should have a natural consciousness to protect and support traditional folk art," Gu says.
zhaoshengnan@chinadaily.com.cn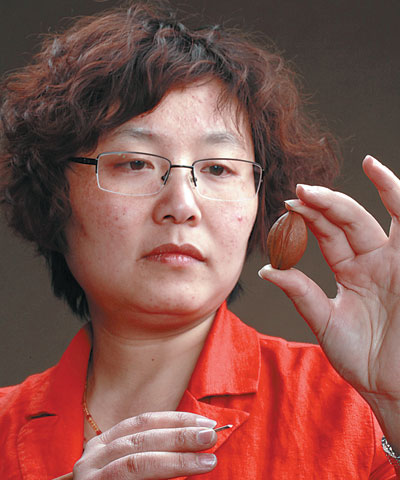 Kernel-carving artist Lu Xiaoqin works on a olive kernel.
We recommend: