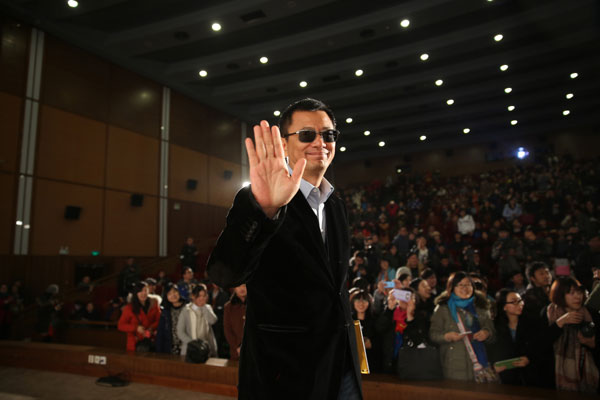 Director Wong Kar-wai appears with his signature sunglasses at the opening of a retrospective of his films that runs until Jan 8 in Beijing. [Photo by Jiang Dong/China Daily]
Director Wong Kar-wai cites Einstein's theory of relativity to defend his notoriously slow pace. Xu Fan catches up with the maverick at an ongoing retrospective of his films.
Hong Kong director Wong Kar-wai is notoriously difficult to work with. Many actors have complained about endless filming delays, a lack of planning and unexplained halts.
But they say the results are more than agreeable.
And the fruits of Wong's labor are on full display in an ongoing mainland retrospective of his films-the first of its kind-until Jan 8.
Beijing cinemas are showing his productions, including Chungking Express (1994), Fallen Angels (1995), Happy Together (1997), In the Mood for Love (2000) and 2046 (2004).
The exhibition is organized by the China Film Archive and Bona Film Group.
Wong appeared in the China Film Archive Cinema hall, wearing his signature sunglasses, after the show opened with the screening of martial arts romance Ashes of Time (1994).
"Most mainland viewers have watched my films on DVD over the decades," says the director, who has been a film festival-award favorite for nearly 30 years.
Many of his movies haven't previously been shown on the mainland's big screen.