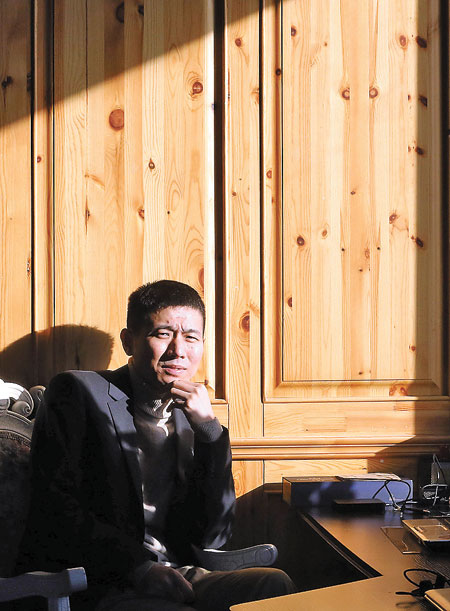 Screenwriter Zhou Zhiyong (above) wrote the scripts of the popular movies American Dreams in China (top) in 2013 and Crazy Stone (left) in 2006. [Photo by Jiang Dong/China Daily]
Good Chinese films need writers who are true to themselves and their culture, and don't put money first, a former waiter who became leading scriptwriter tells Wang Kaihao.
A 700-square - meter studio in this hutong area of Beijing looks luxurious, but all screenwriter Zhou Zhiyong really needs to work is a corner of his office, a mere 10 square meters.
The wall is full of Post-It notes with brief descriptions of scenarios. A handwritten statement is stuck on the front door: "Never shoot a movie only for money."
"That's what I always want to remind myself," he says, smiling. "Well, many film producers suggest that I take 'never' away."
The 38-year-old is one of China's hottest screenwriters today. He wrote the script of American Dreams in China (2013), a widely acclaimed inspirational biopic based on the founders of English education colossus New Oriental. However, he considers that production to have been a "routine job".
"It only took me 47 days to finish the writing," he says of the film, which begins in the 1980s and continues through the 2000s. "Hong Kong director Peter Chan didn't know much about the mainland's history of reform and opening-up. His curiosity and trust gave me the chance.
"However, if I am still first identified as 'screenwriter of American Dreams in China' after five years, that will only prove I am a loser. Let the past glory lie in the coffin."
Zhou started with comedies. He first caught the public's eye with the unexpected low-budget hit Crazy Stone in 2006, which won best original screenplay in Taiwan's Golden Horse Awards, a premier prize in Chinese-language cinema.