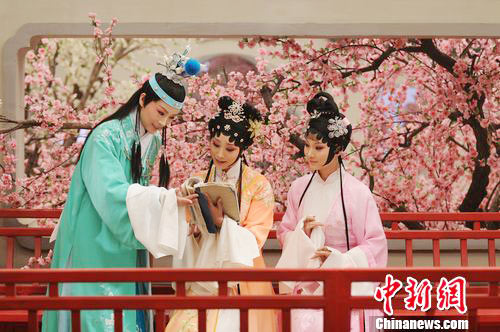 A still from the Kun Opera filmA Dream of the Red Mansions. [Photo/Chinanews.com]
A Kun Opera film version ofA Dream of the Red Mansionswon three awards at the 12th Monaco International Film Festival in Monte Carlo on Dec 7.
The film, directed by Gong Yingtian and shot by China's Northern Kunqu Opera Theater, won the festival's highest honor, the Best Film Angel Award, becoming the first Chinese film to receive this award. It also won the Best Costume Design and Best Original Music awards.
The opera epic is based on the well known, mid-18th century Chinese classic by Cao Xueqin that follows a family through its changing fortunes.
"The Kun Opera film,A Dream of the Red Mansions, uses modern film technique to perfectly fuse the over 600-year-old Chinese Kun Opera with the Chinese classicA Dream of the Red Mansionswritten 200 years ago," said the festival's jury president, Zeudi Araya Cristaldi.
The film was also selected to mark the opening of the film festival on Dec 4.
The festival, which ended Dec 7, had a line up of 16 premiere films and 10 screenplay nominees from around the globe, which were shortlisted for the Angel Film Awards.