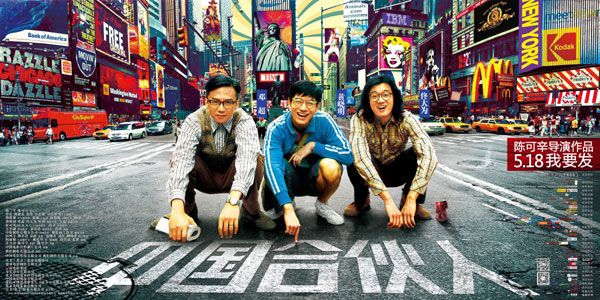 [Photo/China Daily]
Zhou has recorded video clips with studio employees acting out unfinished scripts. The clips are posted online to get netizens' feedback
"Screenwriters usually intend to keep their stories secret, but as long as they show these rough ideas to the public, they will actually be safer, because no one will dare to copy them flagrantly," he says. He plans to hold "spring and autumn auctions of stories" for investors next year. "Of course, I will only tease them with partial plots."
His newest challenge is being a director, and the beginning has been anything but smooth.
His feature-length debut, The Great Mr Zhou, based on his own experience, was banned before screening because actor Jaycee Chan, in the protagonist's role, was accused of drug use.
But Zhou is bouncing back. He's preparing to shoot Gan Jin Sha Jue, which means "kill them all". That sounds like a horror flick, but it will be a romantic comedy. It's not his own script, and, as a newbie director, he quelled his urges to change it, he says, giggling with slight embarrassment. "At least, I changed the original title Love Godfather, which is too cliche."
On the writing front, he has nurtured - for six years - a thriller about night-shift police officers. Although he hasn't used a police theme much, he says he's turned down many offers to buy the script. He's eager to produce what he sees as "a top-tier thriller in Asia" for himself.
"But screenwriting will continue to be my major job. No matter how rich a screenwriter's mind is, it will be dug up one day like a gold mine. I will consider switching to become a full-time director then."