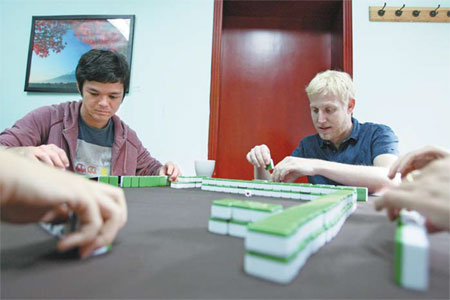 Mahjong has a great deal of terminology and may be overwhelming to any beginning player. Wang Zhuangfei / for China Daily
The US mahjong craze
With the popularization of the "red book" and the influence of overseas Chinese students, a "Mahjong Craze" swept over America in the 1920s. Mahjong was in great demand, with a total of 1,500,000 sets sold in 1923. The same year, the street fair of New York's Park Avenue invited 12 Chinese people to demonstrate how to play the game. The mahjong set used for the demonstration was sold to an attendee who insisted on buying it on the first day of the fair.
The 1920s were a period of sustained economic prosperity in America after the First World War, known as the Jazz Age and the Roaring Twenties. Mahjong was introduced just as Americans abandoned themselves to pleasure. An article in Vanity Fair wrote, "The mahjong storm landed on the Western Pacific coast in April last year. It kept blowing eastward without a break and reached the eastern coast of Maine and Boston earlier this year. It will head for New York City where a few mahjong specialists have stood ready for it."
There were roughly 15 million Americans playing mahjong by the end of 1923. The mahjong storm swept through the spectrum of American society with the rich hiring mahjong specialists as tutors and the poor grasping the "red book" in hand as guidance. According to Chinese scholar Hu Shi, mahjong became the most fashionable game in Western society in the 1920s, and overseas Chinese students could make some money by giving mahjong lessons.
Mahjong was better received by American women than men. Many women lived a more leisurely life, and mahjong was an ideal activity when their husbands were at work. Several hit songs were recorded during the mahjong fad, most notably Since Ma Is Playing Mahjong by Eddie Cantor. It describes a house in disarray after a man's mother became obsessed with mahjong.
Jewish affection
In 1937, at the tail end of the mahjong fad, more than 400 New Yorkers attended the first representative assembly of mahjong enthusiasts in America. Seven people were chosen as representatives out of the 400 attendees, and all of them were Jewish.
In the 1940s, more than 20,000 Jewish refugees fled to Shanghai from war-torn Europe, and mahjong became their solace. From then on, Jewish people have embraced mahjong and the game remains close to their hearts even today.
We Recommend: