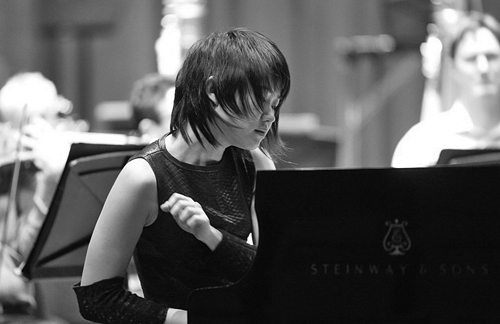 Wang Yujia plays with the London Symphony Orchestra under the baton of Daniel Harding in Beijing.[CHINA DAILY]
High-flying soloist Wang Yuja pays as much attention to her instrument as her performance, the perfectionist tells Chen Jie.
Wang Yuja is late to the interview. Before my turn, China Central Television's camera has been waiting outside her dressing room backstage at the National Center for the Performing Arts.
Her mother comes to explain that she was helping to tune the piano because it had not been in good condition at her concert the night before, when she played Rachmaninoff's Piano Concerto No 3 with the London Symphony Orchestra under the baton of Daniel Harding.
The pianist arrives 10 minutes later, in a short, tight black dress with a long silver zipper on the right side, and black stockings. Standing before the camera, she sways a little in 13-centimeter-high heels.
"What shall I say?"
"Just say hello to the CCTV music channel's audience," the reporter tells her, adding that this actually is not an interview.
"So simple? Don't you need me to say anything else?" The 27-year-old pianist says and bursts into laughter just like any Beijing girl-next-door.
Then we start talking about last night's concert. I tell her that on micro blogs, Chinese fans have been abuzz about her sexy scarlet dress.
"Oh, it's sad, only the dress, not the music," she says and laughs again. "I know, because the piano was running away, running from the end of the first movement.
"It was not the one I played here last year. They tuned it before the concert but it still did not sound good. I wanted to change the piano, but they sent a new tuner just now. Hopefully it will work tonight. Otherwise, it would be the pianist who should be changed.
"I followed the micro blogs for a while last year but I've quit now. All paparazzi and gossip-I just don't know how to respond."
On the second evening, she and the London Symphony performed Prokofiev's Piano Concerto No 2.
The Rachmaninoff and Prokofiev piano concertos on her Beijing programs are the two pieces she played most last year. In February 2013 in Caracas, she performed the two demanding works in one concert with Gustavo Dudamel's Simon Bolivar Symphony Orchestra of Venezuela. The concert was recorded live and released by Deutsche Grammophon.
"It was my first visit to Caracas. It's so adorable, lovable and warm, and I don't just mean the weather," she says, "Everything feels very spontaneous and that totally fits my temperament. You know, I even had two bodyguards because they said there might be danger, but I did not feel any danger at all.
"The piano was not that good, but the orchestra was terrific. We had so much fun, because they are all around my own age, which does not happen often. What really stuck me is how responsive they are. In the rehearsals I found that if I asked them to do something in the music, they'd not only do it at once, but they'd do it about a thousand times better than I'd imagined. I could feel our heart together."
She once dreamed of recording the two piano concertos she loves most with Claudio Abbado's Lucerne Festival Orchestra, but sadly the maestro passed away in January.
Dudamel is another conductor she enjoys working with. They were aware of each other before they met, and had hoped to work together some day. According to Dudamel, the opportunity came sooner than expected.
"It came about as if by magic," the Venezuelan conductor says. "Our schedules looked really full, but I was in Los Angeles at the Hollywood Bowl and they said: 'We have a soloist you might be interested in'." And so, in summer 2012, Dudamel conducted Wang in Tchaikovsky's Piano Concerto No 1.
And a few months later, she went to Caracas.
"We are both Aquarius so we understand each other. We did not talk to each other at all. We just played. The first time (Rachmaninoff's No 3) had been a bit shaky, but the second was perfect. All the characters were out. It was really cool."
It is the first album that the Simon Bolivar Symphony Orchestra recorded with a soloist, and Dudamel feels this is a landmark recording for the orchestra. "Yuja is very young and very talented. We are of the same generation and together we are all building a new generation of musicians and audiences," he says.
Born in 1987 in Beijing to a percussionist father and a dancer mother, Wang started to learn piano at age 6. Her aptitude for the keyboard and her performance skills soon began to shine. She won several competitions in Beijing and by the time she was 9 she had performed in Spain, Germany and Australia.
She won the Aspen Music Festival's concerto competition in 2000, which led to her audition for Leon Fleisher's Carnegie Hall master classes in New York. In 2002, the 17-year-old was admitted by the Curtis Institute, where she spent six years with Gary Graffman, who was also Lang Lang's mentor.
Her breakthrough came in 2005 when, as an undergraduate at Curtis, she replaced Radu Lupu at a day's notice to perform Beethoven's Fourth Concerto with the National Arts Center Orchestra under the baton of Pinchas Zukeman. It led to the call to step in for Martha Argeric and play with the Boston Symphony and Charles Dutiot in 2007.
The opportunities to replace famous artists began to snowball. International Piano magazine had her on one cover and called 2009 "Yuja's Year".
Now her busy schedule has her flying from one concert hall to the next. She just finished a residency in London.
She plans to return to China more-not only because it's her home but also because of her growing fan base.
We recommend: