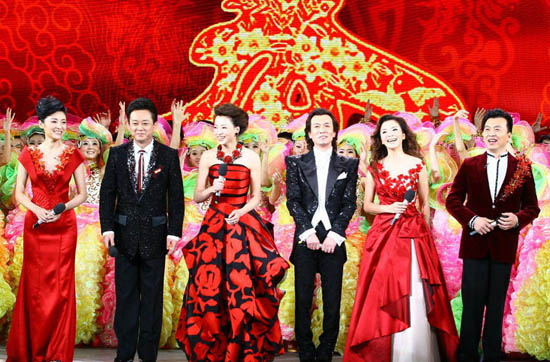 File photo of CCTV Spring Festival Gala. [Photo/Xinhua]

China's Central Television (CCTV) has not yet announced the general director for the 2015 Spring Festival Gala and insiders say preparation for the gala has not been launched, while in previous years it was launched before the end of August, Changsha Evening News reported.
CCTV's Spring Festival Gala has accompanied the Chinese New Year for 30 years since its debut in 1983. Family members throughout the nation gather together to watch the show as they welcome the coming of a new year.
A woman surnamed Ding, who was responsible for the gala's publicity, said the event has not yet been launched. As for word saying the gala would be canceled this year, she said it is "not convenient to respond".
Reports said the delayed announcement is because Chinese New Year in 2015 falls on February 19, quite a few days later than previous years.
Meanwhile, others speculate the gala's scale will be cut due to the frugality movement. As it becomes smaller, the postponement of preparation is normal.
Last year, CCTV announced film director Feng Xiaogang as the general director of the gala on July 12.
Despite its 30 years of history, the gala has gradually lost its appeal, particularly among younger viewers. According to a poll by China Youth Daily this January, more than half, 55.4 percent, of the 102,791 people polled think the gala's content in the past few years was outdated.
We recommend: