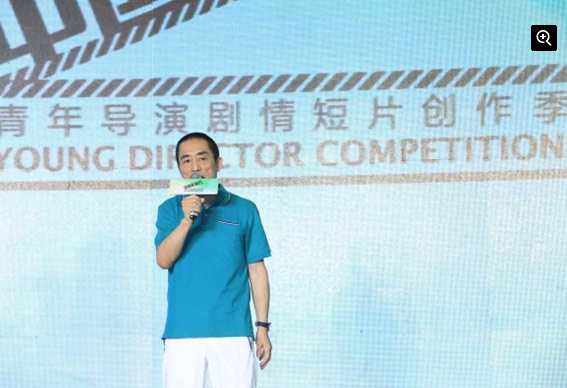 Chinese director Zhang Yimou speaks at the China Influence-Young Director Competition launch ceremony Aug 7, in Beijing.

The China Influence-Young Director Competition was launched in Beijing on Aug 7. Nearly 100 young directors around the nation participated. Some have won awards at the Cannes International Film Festival and Pusan International Film Festival. The first-round selection was conducted at the China National Film Museum on Aug 10.
Art director Zhang Yimou, chief director Jackie Chan, short film director Tang Jili, literature general counsel Wang Meng, program director Jia Ding and music director Jin Peida provided support and guidance for the young directors.
The competition included three rounds. Ten directors who stood out in this competition will have 100 days to create short films that will premiere early next year and will be graded by experts and audiences. The first prize winner will be awarded 1 million yuan and join crew that will be filming a promotion video to be used in bidding for the Beijing Olympic Winter Games.
According to the State Administration of Press, Publication, Radio, Film and Television of the People's Republic of China, this year the total box office of mainland films has reached 17.9 billion ($ 2.9 billion), 52.5% of which came from domestically produced films. Twenty domestically produced films made over 100-million ($16 million) at the box office, among which eight were made by young directors born in the 1980s. China still lacks in numbers excellent films directors compared with movie making powers. "A film is to tell a story and we just need young story tellers. The development of Chinese films depends on story tellers, young directors. You are important. You represent the future of Chinese films" said Zhang Yimou at the competition launch ceremony.
We recommend: