Chinese fiction literature translation expert Xu Yuanchong was awarded the International Federation of Translators (FIT) "Aurora Borealis" Prize for Outstanding Translation of Fiction Literature at the FIT 20th World Congress held in Berlin. He was the Asian first translator to win the award since the "Aurora Borealis" Prize was established in 1999.
The jurors said: "There were four excellent nominees this year, each of whom was qualified to win the award. However, there were important reasons why this year's jurors ultimately chose Professor Xu Yuanchong: In an international environment in need of effective communication, Professor Xu Yuanchong has devoted his career to building bridges among Chinese-, English- and French-speaking peoples. He has translated Chinese literature extensively into English and French, as well as having translated major works from Western languages into Chinese. He has also published work on translation theory."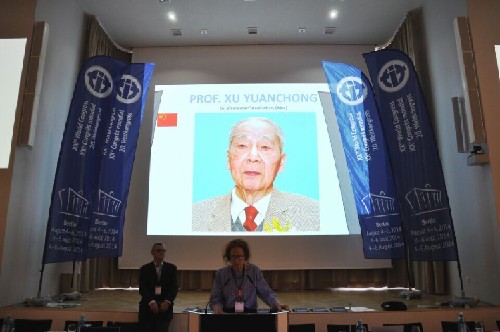 [Photo: FIT "Aurora Borealis" Prize Ceremony/ by Jorgen Christian Wind Nielsen]
Jurors took into consideration the number of readers of English and French around the world who might be reached by Professor Xu Yuanchong's translations, as well as those who might read his translations into Chinese from English and French.
The Aurora Borealis nomination for Professor Xu Yuanchong by the Translators Association of China included a thorough analysis of his translation process, with examples that allowed jurors a glimpse into his thought and methodology. This glimpse was helpful and important for the jurors because it clarified and supported other parts of the nomination, such as the quantity of translations and the recognition given for them.
Wang Gangyi, head of the Chinese delegation of Translators Association of China (TAC), attended the ceremony and said Mr. Xu Yuanchong deserved the prize. He said Xu is an outstanding role model of the older generation who devoted his lifetime to literary translation, and he has made important contributions to the cultural exchanges between China and the globe.
Though 93-year-old Xu was unable to attend the ceremony due to health reasons, he said in a written statement: "It is really an honor to be given the award as a Chinese translator. I think it not only shows my translation works are recognized by the world personally, but also shows that Chinese literature has attracted more attention worldwide."
Apart from translating classical Chinese poetry into foreign languages, Xu Yuanchong also translated many of the British and French classics into Chinese. In his seventies, he was still involved in translating Proust's masterpiece, Remembrance of Things Past (1990) and translated Flaubert's Madame Bovary (1992), Stendhal's Red (1993). At the age of 78, Xu also published a voluminous long masterpiece, the translation of Romain Rolland's John Kristof (1999). Xu was awarded the "Lifetime achievements in translation" Award from the Translators Association of China (TAC) in 2010.
We recommend: