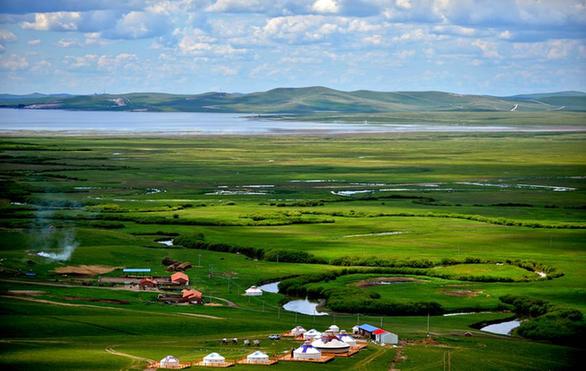 Photo taken on June 22, 2014 shows the scenery of the Ulgai Grassland in North China's Inner Mongolia autonomous region. The Ulgai Grassland boasts a rich flora and fauna in its 5,013-square-kilometer ground area.[Photo/Xinhua]
The Tourism Bureau of Inner Mongolia autonomous region announced its new tourism promotion campaign on June 27 inBeijingat a press conference to introduce its prime tourism resources.
Located in northern China, Inner Mongolia is rich in nature-endowed tourism delights. For people who have never set foot in the autonomous region, the first thing that comes to mind is its infinite grasslands and vast green ranches filled with herds of cattle and sheep roaming freely under a blue sky.
Inner Mongolia has all the grassland types of the world, and is known as a "complete natural grassland museum." Some of the province's most renowned grassland regions include the Ulgai Grassland and the Hulunbuir Grassland, with the latter considered the "most unsullied grassland" of China.
Apartfrom natural scenery, unique folk culture is another distinctive feature of Inner Mongolia's appeal to travelers. Local residents have preserved the essence of their primitive nomadic lifestyle, which has been cultivated through years of living a hunting lifestyle.
Their ethnic characteristics are best represented at the annual Nadam Festival, a long-standing tradition and a highlight of local cultural life. "Nadam" is a Mongolian word meaning "entertainment" or "recreation" and there is plenty of that at this traditional celebration of Mongolian culture and sports. Some of the festival's highlights include horse racing, archery and Mongolian wrestling.
It is worth noting that the summer climate in Inner Mongolia is cool, and is combined with fresh air and immense green grasslands, making it an ideal place to escape the heat and enjoy a little peace and coolness.
Farmer painter Lu transcends art form to take different path 

Farmers'art: color it 'happy'

 
Chinese Quyi Artists Association performs in Germany