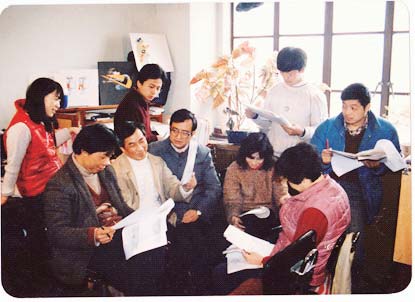 Creative talents from the Shanghai Animation Film Studio work on a new project. This was in the 1980s.
Challenges from abroad
In the 1980s, SAFS' dominant position as the nation's best animated filmmaker was challenged when foreign cartoon series from Japan and the US were introduced into China. "A more serious challenge came as foreign companies opened branches in Guangzhou and Shenzhen, offering attractive remuneration to our animation talents," Qian says.
The creation of 3-D cartoons by computers posed an even greater threat to SAFS, as almost all of its cartoons were hand-drawn and 2-D at that time.
Over the past three years, SAFS has exercised great effort in marrying its classic cartoon characters and the latest technology. In 2012, a 3D version of Monkey King was aired, and box office takings surpassed 50 million yuan ($8 million).
"Our plan is to present one high-quality movie each year, and the ultimate goal is to establish a complete cartoon industry chain including movies, TV series, merchandising, as well as a theme park," Qian says.
In order to reach such a goal, SAFS is planning to revive its classic cartoon-producing techniques, but with new technology.
The nation's first puppet animation, Avanti, will screen in 2015, and the film will use 3D printing technology, according to Qian.
A watercolor work group was established early this year, and animation creators in the group are trying to research and develop a film with state-of-the-art technology.
Furthermore, an indoor interactive cartoon park started construction this year at Wanhangdu Road, where SAFS was formerly located. The park is expecting to welcome its first visitors in about two years.
To date, the SAFS has produced more than 40,000 minutes of animation.