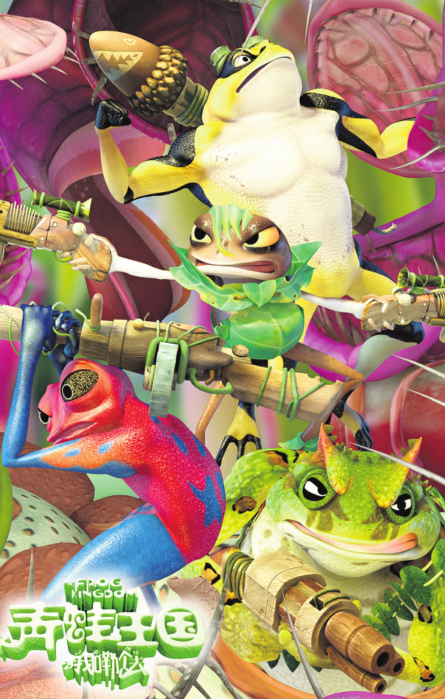 FENG YONGBIN/CHINA DAILY
The poster of The Frog Kingdom, an animation film by the institute and its in-house animation company Vixo, which is currently in theaters.
A new amphibian movie star has emerged in Northeast China, and it is only one of many characters being brought to life in the animation studios in Changcun, Jilin province. Deng Zhangyu and Liu Mingtai take a look at the storyboards.
In a room occupying half a floor of a building, rows of artists are busy working on their computers painting, designing and coloring 3-D cartoon images of various frogs. The scene here is no different from animation studios flourishing in dozens of China's animation and games industry zones where rooms are so tightly packed with animators that it makes breathing a little difficult.
The difference is that here, the animators and motion designers hard at work are college students in their senior years.
Theses students are from Jilin Animation Institute, the only college in China dedicated to teaching animation. Located in Changchun, the capital city in Northeast China's Jilin province where the economy is a few steps behind Beijing and Shanghai, this private school boasts 11,000 students majoring mainly in animation and games.
Thanks to the country's burgeoning animation market in the past 10 years, tens of thousands of students have gotten hired by studios across China after they graduate from the institute and internships in studios on campus.
The college has attracted the attention of animation companies and directors eager to talent spot skillful animators, including Kung Fu Panda director Mark Osborne.
"Osborne has come several times to talk about cooperation. But we have refused for our own reasons," says Zhu Li, vice-president of the Jilin Animation Institute, although she is reticent about why she said no.
Zhu is proud of the 3-D and 4-D technology used in animation productions from the institute.
She is especially pleased that her students have been able to practice their skills while being involved in projects within their campus.
The biggest project for the institute and its in-house animation company Vixo has been The Frog Kingdom, a film which they spent five years producing. About 80 percent of the 300-member production team consists of graduates from the institute, not counting the hundreds of students who took part in the production every year.
Yue Jinxi, a student at his final year, says he was involved in making models of the frogs for the film last year. As a result, he has set up his own studio with some classmates to produce models of animated characters.
"We only do the basic work for the film," says 23-year-old Yue, adding that there are many studios led by teachers running different projects for the movie.