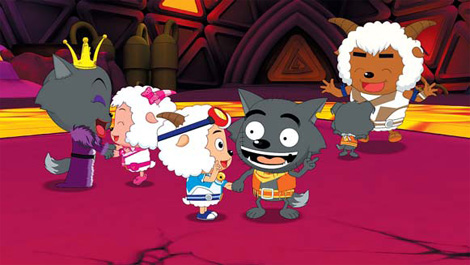 A still from Pleasant Goat and Big Big Wolf, a popular Chinese animation. [Agencies]
Creative approaches needed in artistry and business as animators face bottlenecks in traditional broadcast media, Eric Jou reports.
The names of Chinese animation studios have long been showing up in the credits of foreign products. That might please those mentioned, but creating quality content for domestic audiences has been incredibly hard with so many animation companies engaged in outsourcing. But a change is on the way as more and more domestic animation houses use their skill to produce the content they conceive. In early September, the People's Daily said more Chinese viewers are tuning in to watch domestic animations because the quality is getting better. It also stressed the need to create original content.
According to the China International Cartoon Network website, revenues from domestic animation will hit $32 billion by 2015.
There is even growing demand from overseas. The Blue Ocean Network has found foreign viewers starting to follow Chinese animations such as Pleasant Goat and Big Big Wolf.
But the path to original content is long and domestic animation companies have suffered under criticism for failure to even create quality China-themed work.
It took Steven Spielberg's DreamWorks studio to make the blockbuster Kung Fu Panda - and both the martial art and animal are Chinese icons.
So some local studios are taking a different route to creating and producing original content.
Dans Digital in Shenzhen has been around since 2003 and has reaped award after award for its original work. While Dans isn't pursuing animation in cartoons, it is deemed an animation company in China because it works in graphics.
Dans Digital founder Deng Bohong said he and his relatively small 40-man team strive to use special effects and computer graphics to tell a story. He said since the company was founded, there was never a desire to do outsourcing work or even full-length features.
"We've never done outsourcing and we don't care for it," said Deng. "Movies to us also lack creativity. We use our techniques but ultimately we are working to create someone else's vision."
 We recommend: