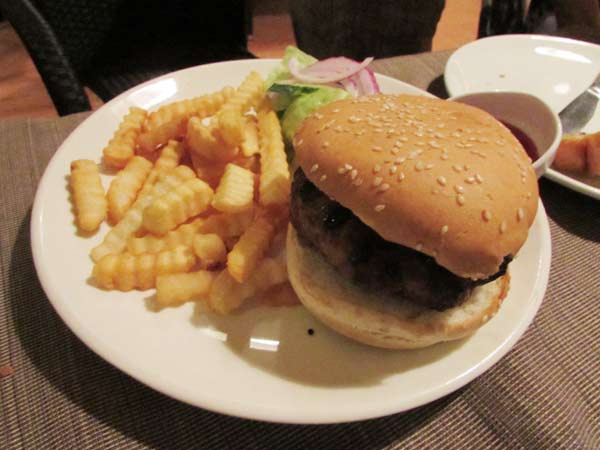 Enjoying a burger and fries by the beach is a treat during the summer. Donna Mah / For China Daily
Sunny summer days have arrived in Hong Kong, and one of the best things to do is to dine al fresco on Lower Cheung Sha beach, part of the longest stretch of beach on Lantau Island.
The Stoep, Hong Kong's only South African restaurant, happens to be located right on the beach and offers traditional braai barbecue grilled food, as well as many other dishes.
Very popular on the weekends and holidays, The Stoep is often the destination for some visitors, or the "reward" after a long hike on the trails all over the island.
If you're lucky, a feral cow or two may visit your table and try to give you a kiss, though they usually keep to themselves. It is part of the charm of dining here though it can be a bit scary for young children. If you're worried about the cows, dine on the concrete dining area rather than on the sand.
Though the grilled meats from the braai are a specialty at The Stoep, one of my favorite South African dishes is the bobotie. The version served here is made with curried minced beef topped with an egg mixture sprinkled with almond slices and a laurel leaf, and served with a yellow rice and raisins. My South African friend tells me that it isn't like the bobotie his mom makes for him. Made with fresh red chili peppers, The Stoep's version is spicier than what he was used to. Still, it is a dish I order almost every time I dine here. It's not a subtle dish, but it is something that hits the spot when a craving for a bit of spice strikes.