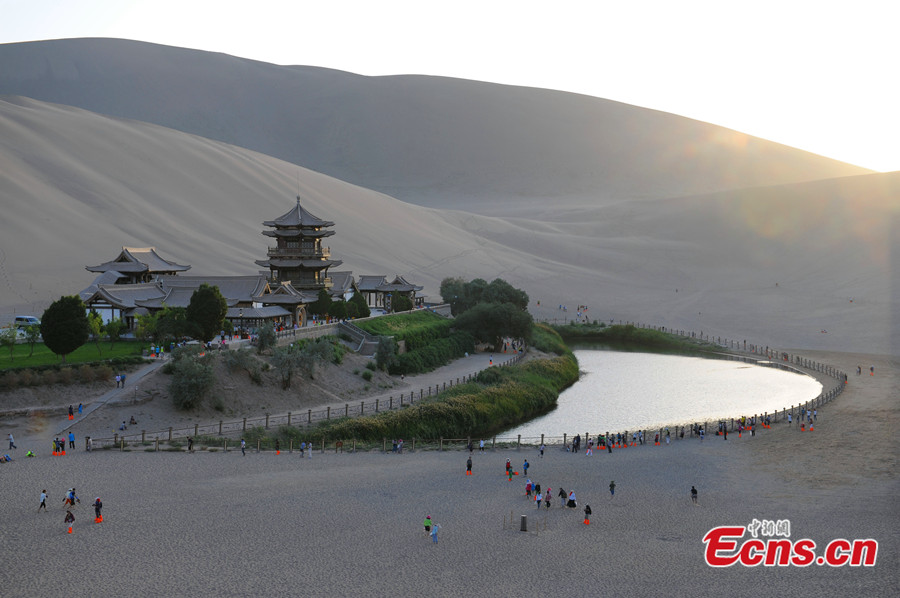 Singing Sand Dunes and Crescent Moon Spring in Gansu [Photo/China News Service]

Singing sand is sand that produces sounds of either high or low frequency under pressure. The sound emission is usually triggered by the wind passing over dunes or by walking on the sand. The sound is generated by shear stress.
The Crescent Moon Spring located at 5km south of Dunhuang City in Gansu. Since time immemorial, the scenic spot has been famous across the whole world for its "Coexistence of mountain and spring, sand and water." It is appraised as "Unique Scenery in the north of Great Wall," and listed as National Key Tourist Attractions of the People's Republic of China in 1994. Almost over 300 meters long and 50 meters wide, the Crescent Moon Spring is surrounded by Singing sand Dunes. The poplars stand elegantly beside the spring and fishes swim happily and leisurely. The spring water tastes fresh and sweet and water in the color of light blue.
Best travel time:May-Sept
We recommend: