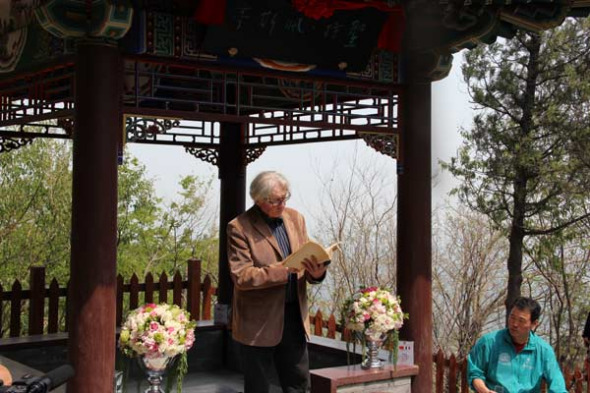 French poet Jacques Darras reads poems under the Saint-John Perse Pavilion on the Yangtaishan Mountain in northwestern Beijing. Poet Luo Ying (Huang Nubo) sits and listens. The restoration of the pavilion is part of the Sino-French Poets Festival. [Photo by Mei Jia / China Daily]

A pavilion in which French Nobel laureate in literature Saint-John Perse (1887-1975) finished writing his signature work, Anabase, has been reconstructed, almost a century after the writer first arrived in Beijing.
The pavilion in western Beijing has been rebuilt under his name and is set to serve as a symbol of Sino-French friendship and literary exchange.
Saint-John Perse was the pen name of French poet and diplomat Alexis Leger, who lived in China from 1916 to 1921.
He spent much of his time at the Jinshan Temple on Yangtai Mountain in a Beijing suburb, and took a photo of a pavilion there. The pavilion later became a site of pilgrimage for fans of the writer, who won the Nobel Prize for literature in 1960.
"Chinese thinking and lifestyle is clearly reflected in Saint-John Perse's works. Chinese literature influenced him as to the length of verses, and enabled him to introduce new verse into French poetry," says French writer Zeno Bianu in Beijing.
Bianu was in Beijing with other French poets, as part of an exchange with Chinese poets, translators and researchers. Organized by the Peking University Poetry Research Center and sponsored by Beijing Zhongkun Investment Group, the 30 poets also toured Huangshan Mountain in Anhui province and Yinchuan in the Ningxia Hui autonomous region.
Jacques Darras, a celebrated poet and translator, says the mutual exchanges are going so well that he wishes "every day could be spent like this".
The 75-year-old has written poems saluting Chinese culture and Chinese poets. Three years ago, in Paris, he met Huang Nubo, a Chinese poet and also a successful businessman.
"Under the slight influence of the wine, they asked me to rebuild the Perse pavilion, the token of the two countries' friendship, as it was in the old photo taken by Perse. And I said: 'OK, I'll try'," Huang says.
He met with local residents and experts. The original pavilion was found and reconstruction work began.
The reconstruction is also a gift for the 50th anniversary of the establishment of Sino-French diplomatic relations, Huang adds.
Xu Shuang, a professor from Paris Diderot University, believes the exchange will boost translation of mainstream contemporary poets from both countries.
"Chinese poets benefit a lot from French poetry. But many good poets are also good translators of foreign poems," says Wang Jiaxin, a poet-on-campus at Renmin University of China.
"Now maybe the time for Chinese poets to return something to world poetry," Wang says.
We recommend: