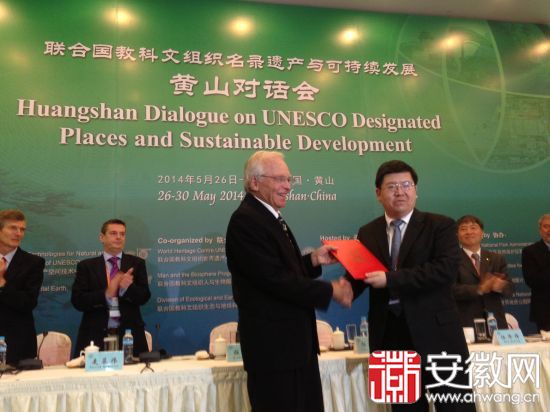 Canadian Jim Thorsell has been made an honorary citizen of East China's Huangshan city on May 27, 2014. [Photo: ahwang.cn]
Canadian Jim Thorsell, 73, has received a special gift. The expert on world heritage evaluation has been made an honorary citizen of east China's Huangshan City.
The title is a way for the local government and people to express their gratitude and is given very rarely, notably to former International Olympic Committee president Juan Antonio Samaranch and former secretary-general of the World Tourism Organization Francesco Frangialli, who made a major contribution to Mount Huangshan's tourism and cultural development.
In 1990, when an application to have the mountain listed as a UNESCO World Natural Heritage site, Thorsell of the International Union for Conservation of Nature (IUCN), visited Huangshan as head of the World Heritage Program.
"Huangshan is perhaps the most spectacular hiking trail in China," said Thorsell, recalling how he had laid a rock for 20 minutes with his face covered by his hat, sensing the atmosphere of the mountain.
Mount Huangshan in east China's Anhui Province is known for its oddly shaped pines and rock formations, seas of clouds and crystal clear hot springs. It has over 1,000 years of history and has inspired over 20,000 pieces of literature. There are over 300 carvings and inscriptions on the mountain, and about 100 ancient paths, bridges and pavilions. On learning the history of the mountain during his trip, Thorsell advised authorities in Huangshan to also apply for World Cultural Heritage status.
"Thanks to Thorsell, Mount Huangshan became both a natural and cultural heritage site, the only dual world heritage site nominated that year," said Huang Linmu, executive director of Mount Huangshan administrative committee. "He is our benefactor."
Twenty years later, during a brief visit to Shanghai Expo, Thorsell only visited two pavilions, Canada and Anhui. In June 2010, he visited the mountain again on a private trip. He said he just wanted to pay a visit like an old friend. At that time, he named a tree at the foot of the Lianhua Peak the "IUCN pine." An international symposium on use of space technology in world heritage protection from Tuesday to Friday at the mountain, was his third visit. He wore a tie with panda motif to accept the honorary citizen award.
Working with the IUCN since 1984, Thorsell has evaluated 140 World natural Heritage sites, including eight in China, said Zuo Xiaoping, head of the Landscape Department of the Ministry of Housing and Urban-Rural Development. "He has given us a lot of advice and been very helpful," she said. Thorsell said it was not his achievement that Huangshan's was listed as a dual world heritage site, but it was through the efforts and contributions of a lot of people. "I just did what I should do," he said.
We recommend: