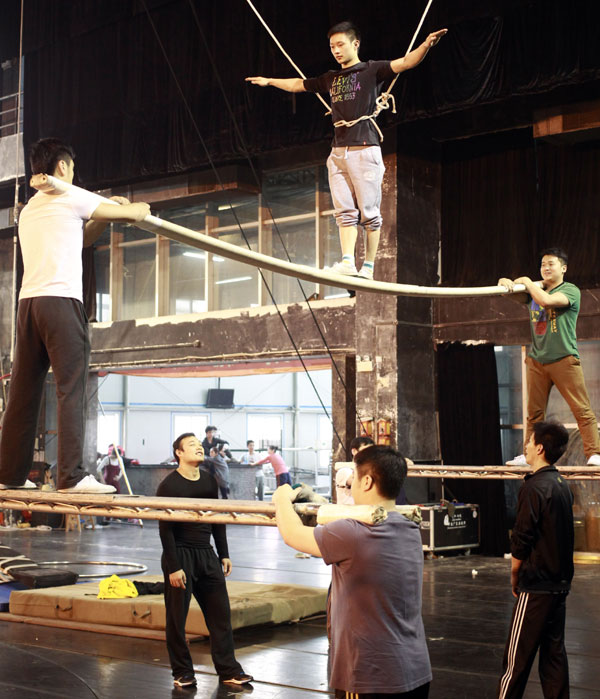 Fledgling acrobats of the Guangzhou Acrobatic Troupe repeat the same routines day after day. Photos by Zou Zhongpin/China Daily
"At the annual Monte Carlo International Acrobatic Competition, an event dubbed the Oscars of the acrobatic world, our Swan of the Orient won the highest prize in 2002. This, I believe, has revealed the future for all of us, that the one thing we've spent our lives serving should be elevated to the status of true art. All true art exacts a price on its practitioners and at the same time embraces and celebrates humanity."
Three of the troupe's roughly 100 acrobats are younger than 13.
They have been taken under the wing of Zhao Yuqin, 61. She has stuck with the troupe for nearly three decades and trained six generations of acrobats.
She is known for her strong will. Zhao once brought her niece to Guangzhou from her hometown over 1,000 kilometers away and made her a child star and international prizewinning acrobat.
"I used to be very strict, especially with my niece. But these days, I'm much softer and never push these kids too hard. Maybe I'm getting old," she says, sighing.
"Now I just want the best for all of them, as people as well as acrobats."
As Zhao speaks, Zhao Wanting, one of her favorite students, practices a stunt first achieved by Zhao's niece about two decades ago, biting a bar to do a headstand supported only by her teeth. Her face reddens.
We Recommend: