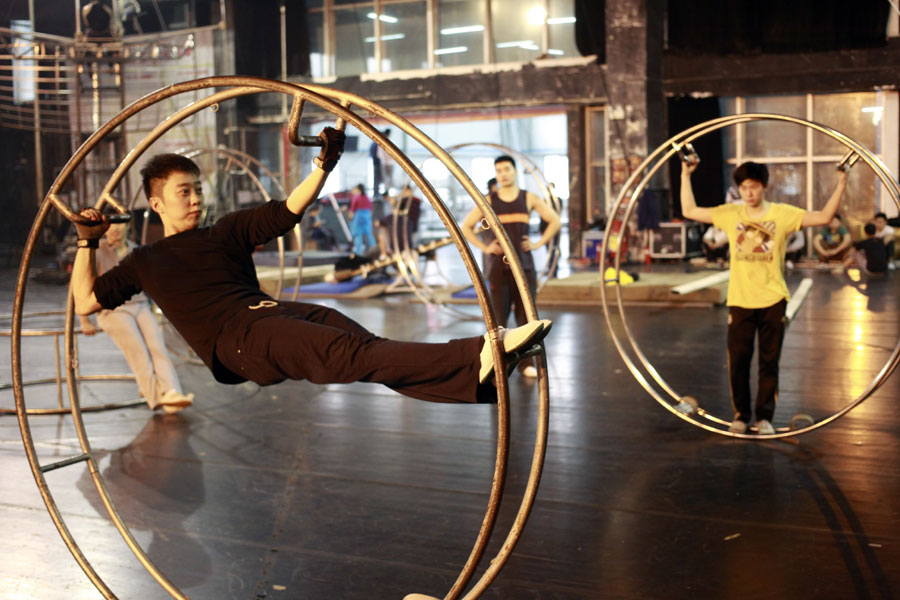 Fledgling acrobats of the Guangzhou Acrobatic Troupe repeat the same routines day after day. Photos by Zou Zhongpin/China Daily
"I started by doing pirouettes and arabesques on his back, and from there I went on to alight on his shoulder, his deltoids and ultimately the top of his head," Wu says.
"For him, my feet, which were constantly bleeding, had become de facto meat grinders. With every turn, the tips of my delicate shoes bored deeper and deeper into his shoulder until it turned into a big unsightly sore. But none of that pain-only beauty-showed in what we finally presented."
But many Chinese acrobats find the idea of enshrining beauty disturbing or even provocative, the Guangzhou troupe's director Li Yaping says.
"There has always been this deeply entrenched view that the core value of acrobatics lies with its shock factor. In other words, the more jaw-dropping, the better," says Li, 45, who was a budding gymnast before joining the troupe in 1985.
"This 'puritanical' view has not only prevented acrobatics from absorbing outside influences but also reinforced people's perception of it as being a cruel, twisted form of art-if the word art can still be used."
Wei, who is also the troupe's deputy director, agrees.
"There's only a limited number of things one can do with his body, however hard he has challenged himself," says Wei, who endured the unendurable to reach this conclusion.
We Recommend: