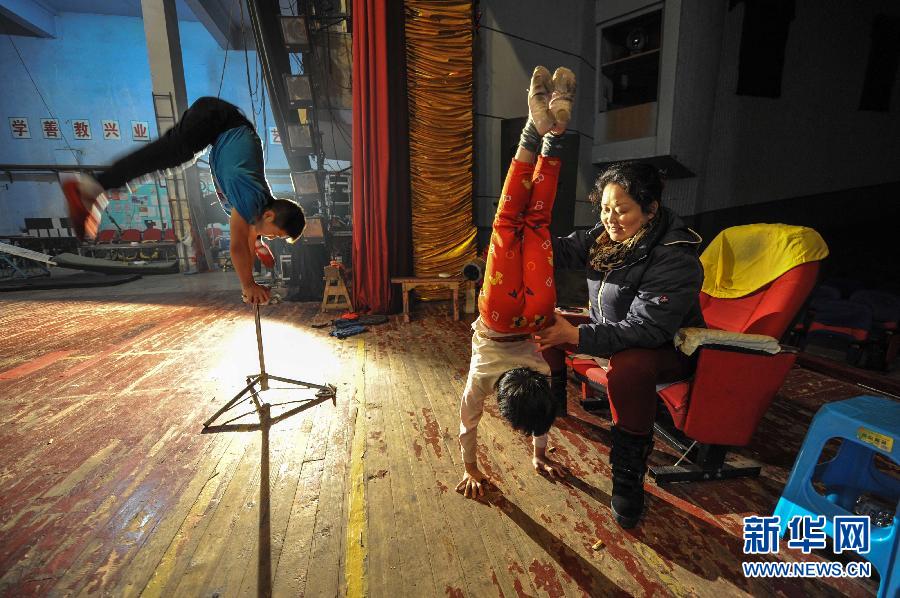 Photo taken on Jan 15, 2014 shows senior acrobat Zhou Haiyan adjusting a student's movement in the training. (Xinhua/ Liu Chan)
More than 20 children entered the training room of the Three Gorges acrobatic troupe in southwest China's Chongqing at 6 a.m. on time to start their day. They needed to practice contortions, splits, stand on head and other movements. Every skill took at least 30 minutes. The saying "one minute on the stage and ten years of practice off the stage" rightly reflects on every little acrobat's life.
"Our acrobatic troupe recruits students every year in the Three Gorges area and foster them to be professional," said Feng Tiankui, acrobatic instructor in the troupe. "It takes five years for them to learn basic skills and one more year to prepare for the stage."
Facing more attractions and temptations, less than 70 percent of students can persist on the acrobatic career, and inheritance of acrobatics is becoming more difficult. So the troupe provides free accommodation and meals, as well as performance opportunities in China and the world to attract more children to join in the acrobatics.
We recommend