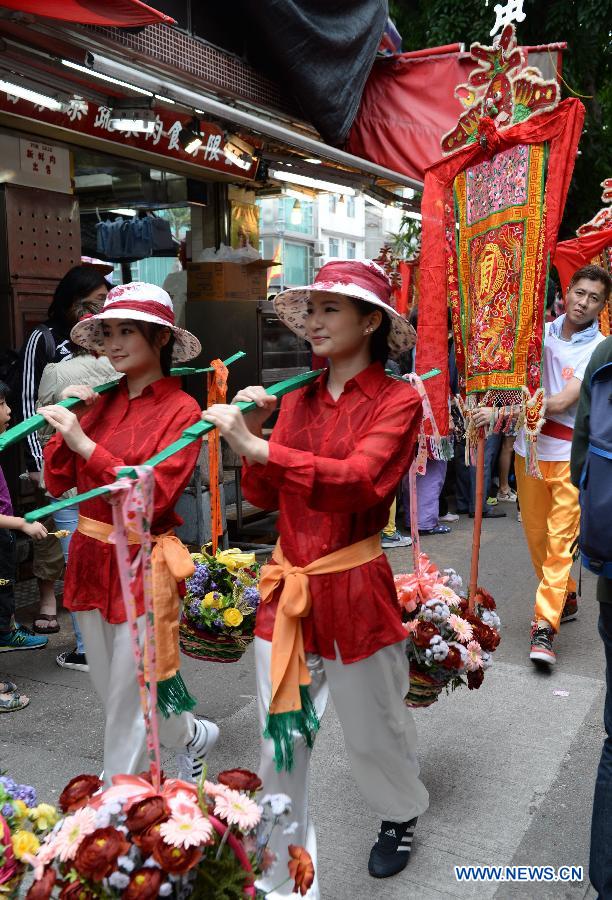 Performers walk in the parade crowd during the Cheung Chau Bun Festival on the island of Cheung Chau in Hong Kong, south China, May 6, 2014. The annual Cheung Chau Bun Festival was held here on Tuesday to placate the hungry ghosts of old pirates. Legend has it that buns bring good luck to the island's fisherman protecting them from the spirits of pirates that once lurked in the region. [Photo: Xinhua]
For the locals, this is how they preserve their customs. The islanders have a strong sense of community and those who have left to work elsewhere return for this celebration. For the thousands who crowd the ferry boats to the erstwhile pirate haven, this is the spectacular Cheung Chau Bun Festival. The weeklong event includes Taoist ceremonies and music, a parade, lion dances, drum beating and an exciting bun scrambling competition involving a tower of buns.
The buns, which are blessed, are handed out on the festival's final day. Traditionally, men competed in a race to climb up the bun towers and grab as many buns as possible. In 1978, one of the towers collapsed, injuring several people. The tragic accident forced authorities to cancel the competition. However, organizers revived it in 2005.
We Recommend: