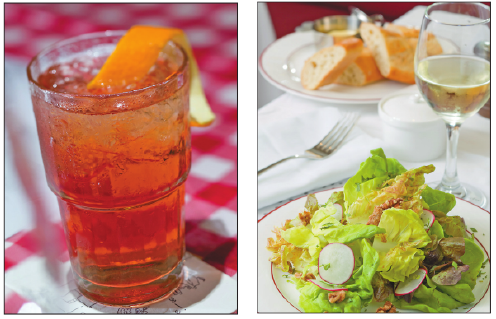 CHINA DAILY
The Boulevardier and green salad with walnuts at La Vache.
In a foodie's town such as Hong Kong, the very concept of Restaurant Week seems redundant. We have a plethora of good restaurants for all types of budgets and, with a very few exceptions, it is often not difficult to snag a table at one of them.
Yet this sixth edition of the popular Restaurant Week is also happening in Beijing, Shanghai, Guangzhou-in fact, in a total of 36 cities around the world. A record 85 restaurants ranging from five-star hotel outlets to independent private kitchens are participating, more than double the 41 restaurants available when it first started in 2011.
What makes the concept appealing is its structure. Modeled after the original Dutch edition in 1998, restaurants are given three fixed prices for lunch and dinner that they must meet with a minimum three-course set menu. Diners book online to secure their spots at a limited number of tables per venue.
"The prices are close to but less than what the items would cost on the regular menu," explains Synthia Liem, general manager of Dining City Hong Kong and the organizer of Restaurant Week Hong Kong since its first edition in 2011.
"When it first started in the Netherlands, the Internet hadn't taken off yet," she notes. "Our launch in New York City was very successful, and we saw an opportunity in Hong Kong for the same type of event."
One of the newcomers to participate is La Vache, the latest offering by Syed Asim Hussain and Chris Mark's Black Sheep Restaurants. Along with their other outlet Boqueria, which is participating for the third time, La Vache has set aside 20 percent of its tables for Restaurant Week.
"It's a marketing event for us mainly," says Mark. "Many of the diners are not familiar with our concepts and we do it for the exposure. The clientele during Restaurant Week is a little different. Boqueria is a tapas place and very down to earth; it's great for big groups who are sharing dishes. If people come in a small party as they tend to do for Restaurant Week, they may not get the real experience. So we emphasize presentation more at Boqueria.
"We will launch lunch at La Vache during Restaurant Week. People can then experience the same value, as it may be sometimes difficult to get a table there at dinner time."
The Mira's two outlets, Whisk and Cuisine Cuisine, have both been participating since 2012. Their F&B director Somik Banerjee notes that while Cuisine Cuisine offers a dim-sum lunch, Whisk's custom lunch and dinner menus are paired with a glass of wine and show off the chef's flair for French creativity.
"It's a great channel for additional exposure both to those who are not familiar with the restaurant or devoted Hong Kong foodies looking out for the best offers in town," says Banerjee. "It's also a platform for first timers to try the restaurant that's been on their radar for a while. Hong Kong diners are very savvy when it comes to picking the best offers in town. It's part of the foodie culture here.
"As both restaurants enjoy steady and healthy traffic, we limit the seats significantly. The previous time Whisk sold out within the priority booking stage due to strong interest. It's then up to the outlets whether or not to open more tables. It's all about the exclusivity of the deal, and that's what makes it popular."
Liem, general manager of DiningCity Hong Kong, says: "The menus are good value-for-money. We have a number of new participants this year. A few really go all out and create a very special menu for the event, including wine pairings for each course at Club Chow. Some restaurants, such as FoFo by el Willy, are very popular venues and only set aside about 10 seats for Restaurant Week. Those places get booked up right away. You almost have to set an alarm for when the site goes live in order to secure your table!"
IF YOU GO
Restaurant Week in Hong Kong
Feb 21-March 2
To reserve a table, visit www.restaurantweek.hk.
Restaurant Week in Beijing, Shanghai and Guangzhou
Feb 28-March 9
To reserve a table, visit www.restaurantweek.cn.
We recommend: