Say hasta la vista to hunger pangs with Xalapa's Mexican cuisine. Mike Peters and Eric Jou report.
You might not expect a national flag to inspire the phrase "mouthwatering". But when a hearty plate of enchiladas-successively sauced in green, white and red like the Mexican flag-arrives at your table, you can be forgiven the urge to salute the fragrant, steaming platter.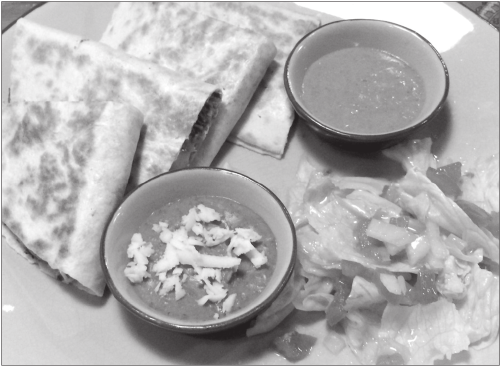 Quesadillas are familiar appetizers for Mexican food fans wherever they come from.
The enchiladas at Xalapa are exactly what one would expect of an authentic Mexican restaurant. The spicy red and the super-spicy verde (green) sauces smother the fresh tortillas and the meat-and-cheese filling without making things mushy.
The corn shell is firm enough to provide a nice texture to the whole package. And these enchiladas are big boys-four to a plate-so there's plenty to share or take home for tomorrow's lunch. And at 45-55 yuan ($7.50-$9) per plate, the enchiladas are a teriffic value for money.
More unusual in China are well-executed mole dishes, and Xalapa shines here, too, with similarly generous portions. We opted for the chicken platter, with a leg and thigh soused with sauce that was rich with cocoa and chilies. Not cloyingly sweet, this slow-cooked sauce had a savory spiciness that made us appreciate having plenty of rice and beans on the side. In addition to the chicken mole, you can order mole tamales and mole enchiladas.
The quesadillas were also delicious, though surprisingly this appetizer was the hottest thing we tried. Lemon water, beer and rice were little match for this pleasurable burn, but we were saved by the horchata, a rice drink that was a little bit sweet and milky enough to do the job of a fire brigade and salve our mouths. Fans of Sichuan cuisine will be smiling through their tears.