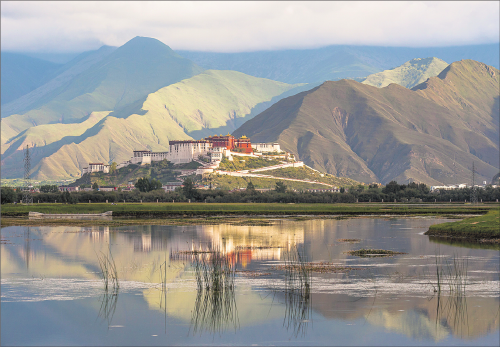 CHINA DAILY
Chamadao, Lhasa. Lharu Marsh, the view behind the Potala Palace at sunset, by Michael Yamashita.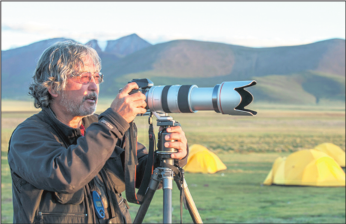 CHINA DAILY
Yamashita at work in China.
CHINA DAILY
A Tibetan woman tends to a yak and her calf.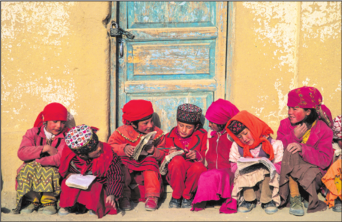 CHINA DAILY
Tajik children review tattered class notes before school.
As a National Geographic photographer, Michael Yamashita zooms in on places too far away for most of the outside world to see otherwise. Xu Jingxi reports in Guangzhou.
Driving around the area behind the Potala Palace in the Tibet autonomous region's capital Lhasa, National Geographic photographer Michael Yamashita from the United States saw a scene that he imagined a trader traveling to the holy palace along the Tea-Horse Road might have seen centuries ago.
The mountainous stretch was devoid of modern buildings. The palace rose from a vast lake in the middle of a wetland. Its perfect reflection on the water made it appear as if it was floating in the air.
"There it was, hiding in plain sight-my vision of paradise. Shangri-la," Yamashita writes of that moment in his latest book, Shangri-la: Along the Tea Road to Lhasa.
The book chronicles his journey from 2008 to 2012, when he traced the paths mule-caravans took tea traders from today's Yunnan province in southwestern China to Central China via Sichuan province, through Tibet and on to South Asia from the Tang Dynasty (AD618-907) through the mid-20th century.
Shangri-la, a synonym for "earthly paradise", is described in the 1933 novel Lost Horizon by British author James Hilton as a mystical and harmonious valley hidden in the Kunlun Mountains. Today, it evokes Westerners' imagination of the mysterious East and has been sought by explorers from around the globe.
Although Yunnan's Zhongdian county was renamed Shangri-lain 2001 to attract tourists, there area thousand places may be considered Shangri-la. Tibetan areas are Yamashita's Shangri-la-"a paradise for photographers".
Yamashita is amazed by the brilliant rainbow of hues cast by Sichuan's Jiuzhaigou valley. He's often asked if he enhanced the photos he shot there. He has not.
"Jiuzhaigou is the most amazing landscape I have not ever seen in any other place in the world," Yamashita says.
"Unfortunately, there are many tourists now. And it is killing Jiuzhaigou. I see myself working against time because, as the beautiful places in China become popular, they may eventually lose the magic with so many tourists going there."
However, it is the human geography that most fascinates the photographer.
Yamashita has completed many big projects as one of the few photojournalists who has worked for National Geographic for more than three decades. He has mostly worked in Asia, largely because he's linked to the continent as a third-generation Japanese-American.
He has fused his photography and travel passions by retracing the routes of celebrated explorers, including Marco Polo, Japanese poet Matsuo Basho and Ming Dynasty (1368-1644) explorer Zheng He (1371-1433).
But, unlike Yamashita, they didn't have cameras.
"Every photographer loves being in a situation where you are there first (and) anybody else needs to follow your lead," Yamashita says. The images he has captured take viewers on many journeys.
They can experience contemporary celebrations for King Gesar, a mythical Tibet an figure who defeated evil tribes to unite the ethnicity. They can slip into the kitchen of a Tibetan temple where monks perform morning tea services. They can scale the 4,000-meter-high mountains to see how Tibetans dig caterpillar fungus-a parasitic fungus that sprouts from the corpses of ghost moth larva-and can sell for $10 for a 1-centimeter-diameter piece.
Yamashita explains Tibetan monks aren't friendly toward photographers. He was the only one at the King Gesar festival, largely because it's difficult to access the location.
He cites fortune and Fu Qing, his assistant, translator and coordinator on his western China travels since 2004. But Fu insists it's Yamashita's persistence that helps him capture the perfect shots.
"Mike (Yamashita) is dedicated to his job and endures all the hardships," Fu says. "He's a crazy photographer. He'll risk everything for a good picture."
Fu recalls Yamashita lying on the grass of the 4,000-meter-high mountains to snap close-ups of Tibetans sifting the soil for caterpillar fungus-aka "Tibetan gold".
He walked into a freezing lake in Jiuzhaigou to shoot a tree rising from the surface. And he endured half an hour with a broken rib while shooting a mountain village. He fell down and broke his rib when he hiked downhill but he didn't go to the hospital until he finished the shooting.
After he finished, he hiked down hill to the hospital.
"'Doctor' isn't in Yamashita's vocabulary," Fu adds.
The photographer rarely discusses adversities. He didn't mention any difficulties or dangers in his public lecture on his Shangri-la journey at Fangsuo Commune in Guangdong province's capital Guangzhou in November.
He instead showed photos of Tibetan herdsmen laboring in heavy snow and of pilgrims performing chak tsal (Tibetan ritual prostration).
Yamashita focuses his lens on people who survive extreme environments and practice traditional lifestyles.
"This is why I'm drawn back to China again and again," he says. "The fashion may have changed. The cities certainly have. But certain practices are exactly the same as they've been for centuries."
The photographer has done 20 stories in China since his first visit in 1982. He adores recording such spectacles as Pu'er tea growers in Yunnan steaming and pressing leaves into flat slabs largely in the same way they have for centuries. He's fascinated by how they still use 29-kilogram green stones to manually press the leaves.
But Yamashita has noticed changes brought even to isolated areas by more than three decades of opening-up and reform. Many of his works hint at such changes, such as a portrait of a Tibetan woman hand-making yak butter in front of a color TV set. A night shot of the Potala Palace shows the ancient holy place above Lhasa's modern buildings, electric lights and traffic.
"So many of the photos I've taken in the past 30 years can not be taken anymore because things change so fast," Yamashita says. "I see my role, my legacy here in China, as preserving the past for Chinese because some situations in my photos can no longer be seen."
The National Geographic photographer's stories on China have introduced the country to the West, says Lee Yung Shih, editor-in-chief of the Chinese copyright partner of National Geographic.
"The West's knowledge about China is still limited," Lee says. "Yamashita's works are important to introduce China's culture and history, such as the Tea-Horse Road's past."
Fu believes Yamashita stands out among the foreign photographers who've flooded the country since its opening-up in that he creates a "true and powerful pre-sentation of Chinese society".
"Many foreign photographers in China love shooting historical sites or the country's fancy, modern side, such as metropolitan skyscrapers and young fashionistas," Fu says. "But Mike focuses on regular people. He doesn't have a political or religious stance. He tells stories with great themes through ordinary daily life. That's something to which readers can easily relate."
Yamashita describes himself as a storyteller. His family and friends comprise his first audience, he says.
"What I'm doing now is telling stories to a wider audience, showing the world what I've seen and what I'm doing through National Geographic," Yamashita says.
"Hopefully, my work has value. Hopefully, it can change opinions. Hopefully, it has some impact. The stories I've done in China may have at least added a little to the general knowledge of 40 million people and their understanding to what is going on here in China."
Contact the writer at xujingxi@chinadaily.com.cn.