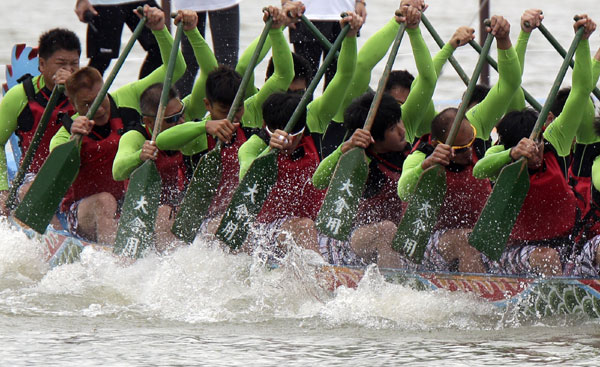 Participants compete in a dragon boat race to mark the Dragon Boat Festival in Taipei, June 12, 2013. The festival commemorates the death of Chinese patriotic poet Qu Yuan, who drowned himself in 277 BC on the fifth day of the fifth lunar month. [Photo/Agencies]
On the morning of June 12, Stuart C Nichols was anxiously watching a dragon boats race on the Nanhu Lake in south China's Nanning City.
A team coached by Nichols is among the 56 crew competing in the Nanning International Dragon Boat Race to celebrate the Dragon Boat Festival.
The festival, which falls on the fifth day of the fifth month of the lunar calendar, is held to commemorate the death of Qu Yuan, a poet and minister from the Warring States Period who committed suicide by drowning himself in the Miluo River.
It's a reenactment of sorts of how common people got in their boats and raced to save Qu when they learned the beloved official jumped into the Miluo River. Another symbol of the festival lies in zongzi, rice dumplings that used to be thrown in the river for the fish to prevent Qu's body being eaten.
"All sports do not have such an appealing origin," said Nichols.
"As a foreigner, sometimes it is hard to mix into a different culture, but when I paddle in the dragon boat race, I feel like I am part of the Chinese culture," he added.
Nichols' affection for dragon boat racing began about five years ago when his wife, a member of a local dragon boat club in Guangzhou, introduced the sport to him.
Nichols asid that he was impressed by the teamwork spirit of the sport and that the annual races always boost his morale as he can hear thousands of fans chanting for his team during the competitions.
"Dragon boat races not only add joy to the traditional Dragon Boat Festival in China, but also boost international exchanges, as they draw an increasing number of foreign participants," he said.
In recent years, the Dragon Boat Festival has grown into a global celebration, with dragon boat races are now held in more than 70 countries and regions around the world each year.
Stuart's passion for the dragon boat races is shared by Khvorostianyi, a regular participant of dragon boat races in China.
"My teams have taken part in lots of races held across China, from Heilongjiang and Jilin to Jiangsu and Tianjin," said Khvorostianyi, who trains two dragon boat teams in Russia.
"We usually train twice a week, but we will have seven training sessions a week if there is a competition coming," he added.
Rong Xiaoning, head of Guangxi's regional administration of sport, said that the dragon boat races are aimed not only to protect the cultural heritage, but also to enhance international exchanges.
"The races provide an opportunity for foreign friends to better understand the traditional Chinese culture, which boasts thousands of years of history," he said.
We recommend:
Special Coverage: