CHINA DAILY
Lu Defu takes pictures of 92-year-old Gu Yingnan's family with 24 members across four generations.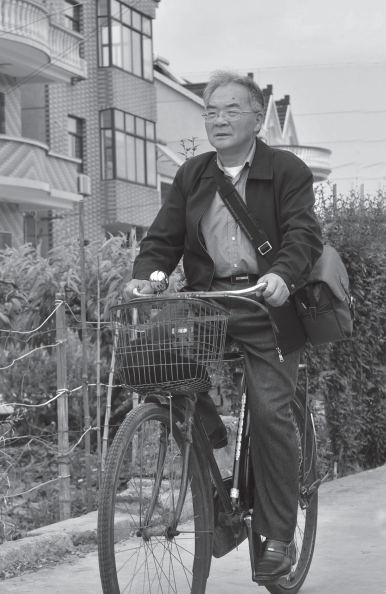 CHINA DAILY
Lu Defu, 67, rides his bicycle on the streets of Xinchang in Pudong New Area, Shanghai, to take pictures of elderly residents in the old town.
When Lu Defu set out to take photos of elderly people with their families, he did not think it would be a great challenge. But he soon found that changing lifestyles have made family reunions a rare event. Wu Ni reports from Shanghai.
Photographer Lu Defu, 67, did not think it would be a major challenge to take family photos of more than 30 large families whose eldest members were in their 80s or 90s.
He set himself the goal in October 2012 to take the pictures of families in his hometown of Xinchang in Pudong New Area, but more than one year on, he has managed to take photos of only 12 families.
"I did not expect that it would be so difficult for all the family members to get together, even when they all live in Shanghai," he says. He adds that in most cases, the elderly were eager to take a family photo but the younger generations were not as passionate about the idea.
Big families with four for five generations living under one roof were traditionally regarded as lucky and prosperous. However, as extended families break up with the country's dash to modernity, younger generations have moved out to live in new communities or apartments, leaving the elderly living by themselves or with one of their sons.
Lu became fascinated with photography after he retired from his job at Xinchang's broadcasting station in 2007.
The most prominent part of Xinchang is a millennium-old water town with more than 55 percent of the architecture from the Ming (1368-1644) and Qing (1644-1911) dynasties and the early 20th century.
Lu first focused on photographing the ancient water town's stone-arched bridges and old houses. But an incident in 2010 made him turn his lens toward the elderly residents of the town.
"I was attending a wedding banquet and I took my camera. It was hilarious when the bride arrived and firecrackers crackled. I saw a few old women in the crowd watch the scene. I asked whether they would like to be photographed, they happily agreed," he recalls.
These elderly women told Lu that they had never posed for color photos and the only chance for them to be photographed was when they applied for their identity card. It reminded Lu that most older people in the town might not have a decent color photo of themselves.
"I asked many old people whether their sons and daughters took photos for them. Most said no and that their children would take photos of the younger generation, rather than the elderly," Lu says.
Lu took a photo of each of the elderly women and sent the pictures to them as gifts. And he decided to fulfill the photographic dreams of more older people in the community.
He spent seven months, visiting the homes of more than 250 people aged above 80 and 90, voluntarily taking photos for them. The photos were named Smiling Faces of the Elderly and exhibited in the town.
Xi Jun, the director of the media and information office in Xinchang town, who helped with Lu's photo exhibition, says that many bedridden elderly people would never have had the chance to be photographed if not for Lu.
The area has about 13,000 residents aged 60 or older, accounting for 24.5 percent of its total registered population, similar to the share of the aging population in Shanghai, the first city in China designated an "aging society" as early as the 1970s.
More than 2,200 people in Xinchang are older than 80 and 267 people are older than 90. The oldest man is 107, Xi says.
Lu found that many elderly people wanted to have a family photo but most of them lived in the countryside, where there are few photo studios, so he decided to do the job himself.
But in many cases, even when he had made appointment with the family, there was always someone absent.
Last September, Lu was invited by an 89-year-old retired teacher to take photos of his family during Mid-Autumn Festival, the traditional day for family reunions. But a few days before the festival, he got a call from the old man who asked to cancel the photoshoot because his grandson would be traveling during the festival.
When taking photos for 80-year-old Tao Mingsheng, whose family has 20 members across four generations, Lu used Photoshop to make the family complete.
"One of their family members could not leave his work on that day, so I asked them to leave a space for him when taking the photo. The next day, when he was free, I took a photo of him and put his image in the space on the family photo with the help of Photoshop," Lu says.
"This might not be a genuine family photo, but all of them were happy as all members were in the photo," he adds.
Lu regrets not getting a photo of a 96-year-old woman in the town's Zhong'an village. The family agreed to have a photo taken when the elderly woman recovered from an illness. But when Lu called three months later, she had passed away.
After taking photos of 12 families, Lu felt that "the key factor to gather all family members together was filial piety of the young for the old".
He was impressed by the family of 100-year-old Weng Caizhu. The family in Zhong'an village now has five generations with a total of 57 members.
"It was on March 26, Weng's 100th birthday. All the family members returned to their old house from all corners of the country and created a family photo together. The youngest was 1 year old."
The family took the photo in front of the brick house built in 1981. Weng had six children who used to live together in a straw house. Now, the fourth and fifth generations, who are all only children, live separately in new apartments.
Jin Xueyu, 52, Weng's grandson, was excited to capture the moment. "It was marvelous to have all 57 family members get together," he says. "Grandma is the core of the family that binds us together."
Contact the writer at wuni@chinadaily.com.cn
We recommend: