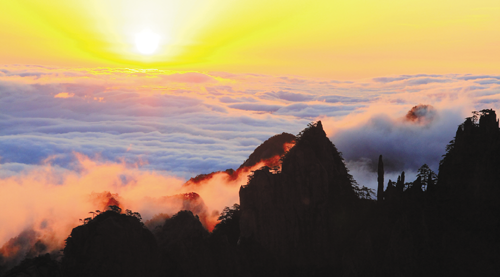 CHINA DAILY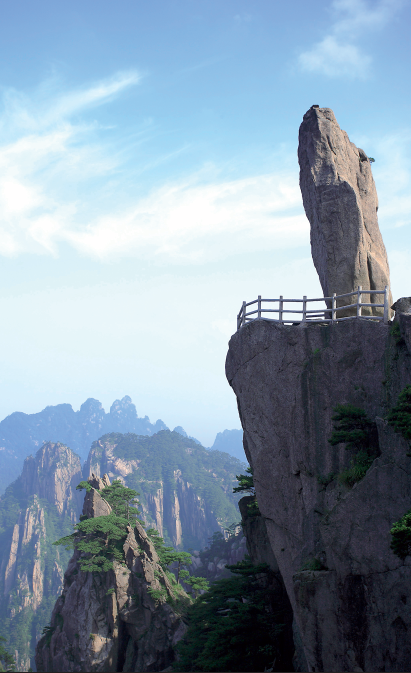 CHINA DAILY
Flying Over Rock is a famous site on Mount Huangshan.
A race to the summit of Mount Huangshan is a fitness test with a view, Gao Changxin finds.
Having groups of paunchy, middle-aged men race past me as they went up Anhui's breathtaking Mount Huangshan last weekend was humiliating enough. The fact that many of them were marching backwards-like some outtake from a Monty Python sketch or David Lynch movie-just added to my burning sense of failure and self-torment. As I heaved my body up a stone staircase surrounded by dagger-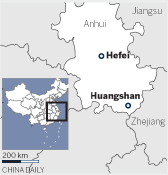 shaped rocks half-buried in mist, I tried to think up a decent excuse for moving at such a snail's pace. After all, it was only two months ago that I had been living in Hong Kong, rowing every weekend and hitting the gym regularly.
Already, life in Shanghai had taken its toll on my health.
Recognizing the appeal of Huangshan to city slickers as both a lush getaway and healthy retreat, the local government organized the race to the summit and invited 3,000 competitors from around the country to take part. As many people have been here before, it also provides a good excuse to visit again-with a stopwatch and sense of challenge. The race is scheduled as an annual event, but there's nothing stopping you from jumping in your SUV with some friends and seeing how long you need to make the grueling ascent.
That is, if you even need an excuse to visit. Offering striking vistas due to its weirdly shaped rocks, granite peaks, pine trees and swirling mist formations, the mountain ranks as a UNESCO World Heritage Site. Although it does not make either of China's lists of sacred mountains (there are nine), many consider it is unrivaled in terms of sheer beauty and visual splendor. It is also fairly easy to get to from Shanghai.
As I labored my way up its trunk, however, the air suddenly felt starved of oxygen and the colors began swirling around and dancing as one. I wondered if walking backwards actually somehow made the task easier, as unlikely as this sounded.
"No, not really any easier, but your knees won't hurt as much if you alter your posture," one seemingly veteran climber told me before vanishing into the mist above. "Anyway, it works for me…" he said, the final words echoing through the cloak of fog as though he were speaking to me from beyond the grave. I felt my pulse and hoped this wasn't some kind of ill-omened portent. All I could hear was the sound of my own heartbeat filling up the silence around me.
People often describe Huangshan as looking like a traditional Chinese ink painting, but only when you see it for yourself do you realize this is neither hype nor hyperbole. One of the landmarks is even called "hard to believe peak".
If you have been in China for a few years, chances are you have already visited once. It was my third time, but the first that I appreciated its greatness in both scenic and cardiovascular terms (previously, I had been even more pathetic and jumped immediately on the cable car to the top).
Paved with stone stairs and embraced by plants and rocks, the route for last weekend's competition stretched for 12 km and ended 1,900 meters above sea level. There are steep gradients and a leisurely plateau, making it easier than a relentless vertical ascent but harder than a treadmill jog. However, while simply throwing my hat in the ring felt like a rite of passage and a major accomplishment, the climb also represented a crucial lung-cleansing ritual. People who live in polluted urban centers need to take advantage of such opportunities.
Chinese are becoming increasingly health-conscious and recent photos from Harbin and Beijing reminds them of the smog-filled perils of big-city life. Instead of questioning just how valuable jogging outside is in such car-clogged metropolises, it might be easier to head to places like Huangshan every few months to suck up lungful after lungful of their remarkably clean air.
In fact, similar competitions can be found year-round. Similar races are organized annually at Yunnan province's snowcapped mountains, as well as at the five sacred mountains of Taishan in Shandong, Huashan in Shaanxi, Hengshan in Shanxi, Songshan in Henan and Hengshan in Hunan.
There are many routes to choose from when ascending Huangshan, but I think the one along the Xihai Grand Canyon is the best choice. Every step seems to open up a staggering new vista, as well as the adrenal thrill of walking so close to a vertical precipice.
A 4.5-km downhill trek leads deep into a ravine and ends at Fairy-Walking Bridge. This is followed by a demanding 3-km uphill march that heads to two more landmarks with poetic Chinese names: White Cloud Sea and Heavenly Sea. Another 700-meter climb ends at Bright Summit, after which it is an easy 1-km descent to Flying-Over Rock. The final 1.5 km circles back to Cloud-Dispelling Pavilion.
Meanwhile, there is a cablecar station at the bottom of the canyon for those who would rather call it a day halfway through and pay 80 yuan ($13). I'd like to say I manned up and braved my way through the whole course, but honestly, that was probably the most enjoyable cable car ride my jellified legs had ever experienced.
Autumn or early winter is considered the best time to visit Huangshan for those planning a timed ascent as the temperature and humidity is most conducive. It is advisable to pack water and energy bars beforehand as those sold on the mountain are predictably pricey. Walking sticks are much more affordable, and can be purchased at the start of the course for 5 yuan. Accommodation on the mountain itself ranges from 1,500 to 2,000 yuan, so most people limit their trip on the mountain to one day and stay in hotels at the foothills.
Contact the writer at gaochangxin@chinadaily.com.cn
IF YOU GO
Long-haul buses set out every day from the bus station right next to the Shanghai Railway Station, and stops around six hours later at Huangshan city. Shanghai Airlines runs one flight a day that leaves Shanghai at 2:30 pm, but the price varies greatly depending on the season and time of booking. A taxi from Huangshan Tunxi International Airport to Huangshan Bus Station costs around 10 yuan. Take a shuttle bus there for 16 yuan to the south gate of Huangshan Scenery Park.
We recommend: